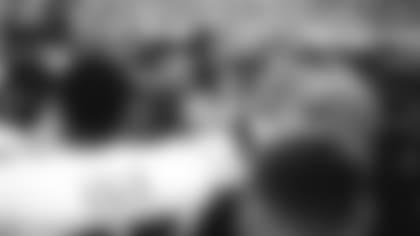 Folorunso Fatukasi may be nine years younger than Steve McLendon, his former Jets defensive linemate, but they share more than roughly the same D-tackle's 6-3, 310-something size.
Fatukasi gets his defensive mates revved up and focused before games and practices, such as at last Saturday's Green & White Practice at MetLife Stadium ... just like McLendon did for four-plus seasons in green and white. Foley talks super-seriously about how to succeed in the NFL and in life ... just like McLendon.
"Ah, man, Big Steve," Fatukasi mused this week when asked if he's perhaps stepping into the leadership role filled by McLendon before he was traded to Tampa Bay last October. "You know I can talk a lot about him. He's been a tremendous friend, mentor, brother to a lot of people.
"I was fortunate, we were fortunate as players, as friends, to have him around. But as he would tell me, the show's still going, you have to keep going."
And so Fatukasi channels a little of Big Steve and brings a lot of himself to bear particularly on his D-line these days as the Jets prepare for the start of games, beginning Saturday night at the Giants in the teams' preseason opener at MetLife.
"I feel pretty confident, pretty good about us," he said. "We understand we have a lot of work to get done, we have to keep sharpening our tools. But I feel like we're coming along, taking the right steps. You know all the guys in our room, I could list all their names, but they're all selfless. We all care about each other so far. And the amount of progress that we've made in such a short time knowing each other has been good.
"But we understand that we have a long way to go if we want to accomplish the things we want to accomplish."
What might those things be? Fatukasi is wise enough not to talk too many specifics at the start of this season, the unit's first under new head coach Robert Saleh, new coordinator Jeff Ulbrich and new line coach Aaron Whitecotton.
"We just want to be a really, really good defensive line," he said. "We have high expectations of ourselves and each other. We understand what we need to do, where we need to go, where we need to focus. ... There's a lot of things we want to accomplish, but that only comes with the amount of work that we put out here every day."
As Fatukasi said, the names of the others in the DL room are known, but a few came up in his recent session with Jets reporters. Such as the name of returning teammate Quinnen Williams.
"One thing I can say about Q, he's going to always look to find something to get better at, whether it's his step or his eyes or helping his teammates," Fatukasi said. "Q is one person that I see playing in this league a long time and he's only going to grow."
Along similar lines, he said recently signed outside rusher Carl Lawson "is serious about what he does, he's a craftsman. So I know one thing about having him is I could learn, we could learn a lot from him. ... Having him as a part of the group and him being a team player like he is, I think has a tremendous upside."
And of all the other players that could be mentioned from that room, we have to include Fatukasi himself. From having his one game and three defensive snaps as a rookie in 2018, the New Yorker has built his profile in leaps and bounds the past two seasons, so much so that Pro Football Focus graded him as the second-best interior run defender in the NFL and as the Jets' most underrated player.
So what's ahead for Fatukasi? It's certain that he'll continue growing his game and help his teammates grow theirs so they can all aspire to reach the level that McLendon reached after last year's trade, contributing as he did to a Super Bowl-winning effort.
Fatukasi again was appropriately vague about such a goal for the Jets but said that if he had such a conversation with Big Steve about culture-building on the Jets, "It would be just as simple as everyone doing their job. Obviously we have guys that are high-energy, young guys, older guys, coaches, and there's all the stuff that we all know. The bottom line is let's do our job."