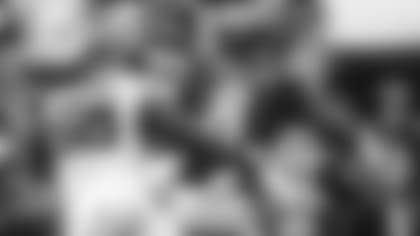 It was said a number of times after the game, by fans, by reporters, by the hosts of the postgame shows on the radio: If you hold Lamar Jackson to 17 rushing yards, you have a good chance of winning that game.
Indeed, that's what the Jets defense did to Baltimore's dangerously diverse quarterback at MetLife Stadium in Sunday's season opener for both teams. Jackson, the Ravens' leading rusher the previous three seasons, during which he averaged an NFL-leading 6.4 yards/carry, was contained by the Jets' front seven to 17 yards on six carries. And the Ravens as a team managed 63 rush yards on 21 carries.
"Speaking for the defense, I thought we came in and had a really good plan," head coach Robert Saleh said after the Jets' 24-9 loss. "And then our guys came in with lots of juice and energy. We gave up three explosives, but overall the defense did a really good job of going blow-for-blow with those dudes."
It wasn't enough, of course, because Jackson can also fling the ball all over the stadium, his or anybody else's. He found WR Devin Duvernay for his first two scores, then unloaded a 55-yard pass that Rashod Bateman took across the goal line unmolested.
Saleh wasn't excusing his secondary — "On that 55-yarder, we got a little nose-y in the back end. They just caught us being nose-y," the coach said.
And one of the new Jets and new starters and stars on this defense agreed with his coach and then some on the Jets' rush and pass defense,
"We just kept it simple, man, kept to our script, everybody running to the ball," CB D.J. Reed said of the Jackson containment plan. "There can't be single tackles on Lamar Jackson. He's a dynamic quarterback. So we just did a good job communicating and running and hitting."
As for the scoring plays, Reed said, "We gave up three explosives as a defense, so we can do better on that," adding of the Ravens' day, "24 points or whatever they had was too much. I would say they got seven, and the other two [TDs] were on us. So credit to the Ravens, they won, but we can do better."
Reed was indeed one of the standouts in this one, with two takeaway-worthy second-half plays — a forced fumble on a Mike Davis run that the Ravens recovered and a leaping interception of a Jackson longball that set up their lone TD. The defense got five licks on Jackson — Carl Lawson in his Jets debut had two of his trademark QBHs — and back-to-back short sacks. And MLB C.J. Mosley, as usual racked up the tackles, 11 in all.
And Mosley hasn't lost any belief that his Jets are more like they see themselves rather than as observers saw them as a 4-13 team last year or as an 0-1 team to start the '22 season.
"We were getting off the field, we were doing a good job of stopping the run. Unfortunately, the big plays they did have resulted in touchdowns," Mosley said. But for the most part, our defense, we did a really good job.
"We can't base everything we've done off of just one game," he said. "We believe what we have here is special, we believed in the draft picks that we got, we believe in the guys that came here willingly. And we have to make that work, and we're the only ones that can do that."
And so it's on to Monday, watching the game video one more time, and finding how to make what the Jets have on defense and on their team work in time for them to work over the Browns in Cleveland next Sunday.
See the best images from the opening game of the 2022 season at MetLife Stadium.