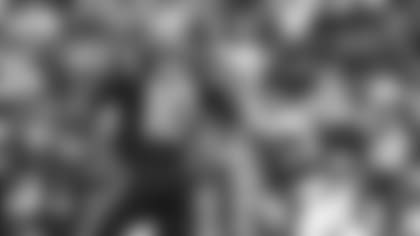 It was a disorienting day for the defense. With a couple of capital D's.
Yes, the Jets' defensive unit was missing C.J. Mosley and suffered injuries to three linebackers as the game wore on. But the unit in Week 2 had possibly its best game of the season in allowing the Patriots 260 yards and 17 first downs and only 12 of 25 points after drives that didn't start following a turnover.
And on Sunday, five weeks later and coming off their bye week, the Jets yielded their most first downs (32) in a regulation game since 2008, their most yards (551) in a game since 1998, and their most points since 1979.
"I can't recall ever being on the end of giving up that many points," DL Sheldon Rankins said. "At the end of the day, getting punched in the mouth like that is never a good feeling."
For S Marcus Maye, starting and playing for the first time in three games due to an ankle injury, the password was "tough."
"I mean, you never expect to give up that many points," Maye said. "Just being one of the leaders out there, you've got to find a way to rally the guys and put out the fire. We couldn't find a way to do that today."
As Maye put the onus on himself and the players, head coach Robert Saleh put it on himself and his staff.
"From a defensive standpoint, we all think we're a lot better than that," Saleh said. "I want to tell you it was unforced errors, but there's got to be a better way we've got to be coaching it, the messaging's got to be a lot better. Something wasn't connecting today, starting with coaching."
Perhaps a sense of foreboding was evident in Mosley not practicing all week with a hamstring pull he got late in the London game. Although he warmed up before Sunday's rematch, Saleh said, "It was pretty clear this morning, even going into the workout, that it was going to be a longshot."
Saleh said Mosley's absence in the middle of the D hurt, "but should it have hurt this bad? No." Maye and Rankins concurred.
"C.J.'s one of the top linebackers in the league," Maye said, "so him not being out there, his presence, was tough. Just being young at that position, it's not an excuse but we've got to continue to learn."
"We have the utmost confidence in every linebacker in that room," Rankins said. "C.J.'s résumé, his caliber of play speaks for itself. Anytime you lose a guy like that, he will be missed. But we have the utmost confidence in everybody who took the field today playing linebacker. It simply comes down to execution. Those guys were being essentially coached by C.J. all week, he was helping them on the sidelines. Those guys were prepared and ready, as we all were. We just didn't execute well enough."
Yet in the second half, three of the LBs playing in the game left with injuries. Rookie Jamien Sherwood was examined for a concussion and left for good with an ankle injury, Quincy Williams got a concussion and Blake Cashman injured his groin. By the fourth quarter, Saleh said, "we ran out of humans."
Still, the Patriots did damage before and after those in-game exits. Rookie starting QB Mac Jones and veteran reliever Brian Hoyer completed 11 passes of 20-plus yards to their receivers, the most in a game by a Jets opponent. RB Brandon Bolden grabbed six passes and two of those 20-yarders, one for a TD, for 79 yards on screens. Meanwhile, the ground game led by Damien Harris pounded the Jets' Mosley-less middle for 148 yards and four short-yardage TDs.
"It was different looks, new looks," Maye said of reasons for New England's success moving against his defense. "They had a good game plan. We had a few guys go down so we had a lot of moving pieces. We've just got to find a way to adjust."
And quickly, since the Bengals are up next at MetLife, coming off their 41-17 road conquest of the Ravens.
"Nobody's happy right now, everybody's upset," Maye said. "But we've got to deal with it. We're all grown men at the end of the day. We've got to own it, watch the film and learn from it. Even though we're a young team, we've got to continue to grow because we've got a game next week."