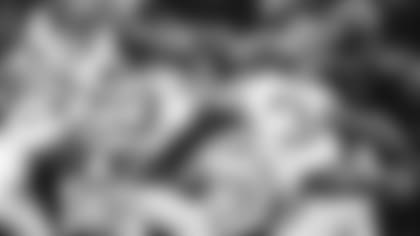 Adam Gase issued a pretty clear assessment of the Jets' defensive play in the 22-6 loss to the Bengals on Sunday: "I just felt like our defense, this one's not on them. We did not do enough on offense."
Various Jets defenders respectfully disagreed with their coach, first among them safety and team leader Jamal Adams, who put a lot of blame on his shoulders because he sustained an early injury that prevented him from contributing as the Jets and their fans have become accustomed.
"Mixed emotions right now," Adams said somberly before heading for the team buses. "I was more upset at the fact that I feel like I let the team down. Obviously a freak accident happened, I don't really know, but I couldn't perform as myself. I'm really upset that we fell short. That's the ultimate goal. It's not about me, it's about this team. We didn't play well enough to get the win. We've got to give Cincinnati credit."
Gase didn't cite Adams as an injured player who didn't finish the game. That's because No. 33 said as deflated as he was by his injury, which he didn't describe, he didn't want to leave the game.
"I couldn't perform," he said, haltingly. "I felt like if I just shut it down, I was letting my teammates down. I can't do that. I did what I could. I don't think I could affect the game like I wanted to. I held my own. I was in a lot of pain obviously, but I couldn't let my brothers down."
Other Green & White defenders had other opinions on what happened to cause the Jets to underperform about as much as they overperformed at home last week against the playoff-candidate Raiders. No one hung anything on Adams or on the offense alone. And DL Henry Anderson wasn't buying the theory that the Jets came out flat against the winless Bengals.
"We had good juice in the locker room," Anderson said. "We came out ready to play. It was just a matter of execution, and I don't think we did a good job in any of the three phases of executing. We have to figure out what we can do, especially with the penalties. ... We were pretty good with penalties the last three weeks going into this game. I think that's part of the reason we were having some success. So we've just got to figure that out, we've got to execute better. I don't think we were flat, though. We were ready to play."
Anderson said the Bengals, who started veteran QB Andy Dalton for the first time in four games, "had a good game plan for us."
"They were getting it out pretty quick a lot," the D-lineman said. "The times he was holding onto it, we've just got to do a better job of winning our rushes up front. I know me personally, I had a couple of chances I should've taken advantage of where he got out on me. We've just got to be more effective up front with our rushes."
First-round draft pick, rookie DL Quinnen Williams, was in agreement with his linemate.
"We've just got to be consistent in the pass rush, man," said Q. "They did a good job getting it out quick, getting their checkdown balls out."
Although the Jets defense gave up some plays to Dalton & Co., its also made some plays. The run defense, while giving up its first rushing touchdown in six games, will no doubt see the No. 1 rankings in rushing yards allowed per game and per carry solidified after holding Joe Mixon to 44 rushing yards (and the TD) and the Bengals to those same 44 yards at 1.8 yards/carry. Dalton, while efficient, threw for a middling 243 yards.
Which brought the defenders' analysis to the big-picture platitudes to describe what they did or didn't do in Cincinnati and what they have to do next week at home against Miami.
"It doesn't matter the record — any NFL team can be beat," Adams said. "You've got to give credit to those guys. We've got to play better, man. We didn't play well enough as a team. We've got to get better from it."
CB Brian Poole said: "It really ain't about them, it's about us. We didn't play up to our standard today. We didn't win. We've just got to get back to work. ... We just want to be 1-0 after next week. That's my only standard."