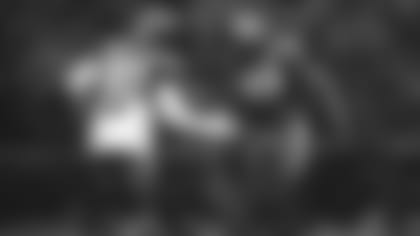 The week before the Jets' opener, it could have been said that while the cornerbacks are young and inexperience and a work-in-progress, at least the safeties are settled with relatively old heads Marcus Maye and Lamarcus Joyner expertly working the deep middle.
Joyner specifically exchanged his Raiders homes of Oakland and Las Vegas from the past two years for North Jersey and seemed to love the Jets, and the Jets loved having him aboard.
"He's one of those rare guys who's absolutely obsessed with this game, loves this game," defensive coordinator Jeff Ulbrich said. "He's had a tremendous influence on the younger players. He could show them what a pro looks like."
Joyner even chipped in on special teams. After playing kick coverage/returns early in his career, he'd gone three-plus seasons, 56 games including playoffs all told, without registering an official ST play. Those streaks ended last Sunday when, in addition to nine snaps on defense, he went out as an off-the-line blocker for the Jets' first two punt returns.
On the second return, he had a freak collision with Panthers coverage man Brandon Zylstra and came away from it shaking his arm.
Torn triceps. And just like that, the on-field portion of Joyner's fresh-start season in green and white was over.
"It's definitely tough," Maye said after Thursday's practice. "You never want to see anybody hurt, especially Week 1, especially the way it happened. I've just got to adjust, get used to playing with somebody new, learn on the fly. We've just got to get better at communication. That's what practices are for, meetings are for. So whoever's out there next to me, it's my job to make sure we're all on the same page. It really hasn't changed anything for me."
As to who will be replacing Joyner next to Maye, head coach Robert Saleh has had an approach similar to the one he took for right corner. He had private feelings about which of his four young candidates might win the job but declined to say publicly, with the big reveal taking place on the Bank of America Stadium field once the game began.
Saleh also declined to name his new starting safety, but said when asked who his options were: "All our safeties. Obviously you've got [Sheldrick] Redwine, Adrian Colbert and Jarrod Wilson, who we just pulled up from practice squad. All three of them have a history in our system and all three of them will have a shot at it."
Ulbrich captured the tough safety task of this week at practice, for Sunday's home opener against New England and beyond.
"The fact that we do a little less can help," he said. "At the same time, there's such a high level of detail in what we do do that it's definitely a challenge. We're fortunate enough to have Marquand Manuel, Chip [Vaughn], T.O. [Tony Oden] and all the guys that work with our secondary, really good coaches who dove in the deep end with these guys and they're spending every extra moment with them trying to get them caught up. I think the coaches and the guys that are being asked to fill these jobs are up for it."
And Maye, who has had only 34 game snaps alongside Colbert and 21 with Redwine, all vs. the Panthers, and no game experience next to Wilson, remains optimistic. One reason is that unlike corner, these safety candidates are new to the Jets but not to the NFL. Redwine's in his third season, Colbert his fifth and Wilson his sixth.
"Yeah, that's big," Maye said. "It's not their first time being out there, just our first time playing next to each other. The speed of the game shouldn't be an issue. Once we get through the week of practice and communicating with each other, things should be fine."
As long as Bill Belichick and OC Josh McDaniel haven't drawn up plays in the dirt to spring one of their WRs or TEs free in the secondary for a longball from rookie QB Mac Jones as the Panthers did with their Sam Darnold-to-Robby Anderson connection, the Jets should be able give a good accounting of themselves in their first fan-filled MetLife regular-season game since late December 2019.
But Ulbrich said Saleh's and his plan for the defense hasn't changed and job one is to eiminate explosive plays. And Maye has a recipe for savoring his first win as a Jet over the Patriots: "We have to go out, just do ordinary things right, play hard, and expect to win."
That includes, of course, whoever is lining up alongside him after the opening kickoff.
See the Top Images from Thursday of Patriots Week at 1 Jets Drive