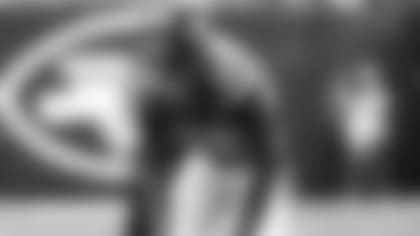 The Green and White went through significant roster and position changes throughout the first three games of the season, and perhaps one of the most noticeable adjustments was the insertion of cornerback Nate Hariston in the starting lineup. Trumaine Johnson was one of the starting CBs in the Jets' week 1 matchup against the Bills, but for the next two games, it wasn't the same case.
"With Trumaine it's coming to work. He's trying to do his job and he's practicing harder. He's playing and he's trying to be detailed about his work and he's trying to await his opportunity," said defensive backs coach Dennard Wilson of Johnson, who has totaled 11 tackles. "He played a little bit last week [Patriots] and in the life of a corner or DB you never know, it's always next man up. So, he's getting ready and he's preparing the same way he's prepared before and if his opportunity comes, he'll be ready to play."
The 6'2", 213-pound Johnson had a career year under both Wilson and Jets defensive coordinator Gregg Williams with the St. Louis Rams in 2015, recording 69 tackles with 17 passes defenses and seven interceptions. But after Johnson's eight-tackle performance against the Bills, he saw only a few snaps against the Browns and participated in sub packages in Week 3 action.
"There's no disappointment in me. For us it's just keeping the main thing the main thing," Wilson said. "We're going to put the guys out there that are playing and then expect them to perform at a high level. Like I said when he [Johnson] gets the opportunity to play, he has to be ready for it."
Hairston, acquired last month from the Colts in exchange for a 2020 sixth-round pick, slid into Johnson's outside spot and logged three tackles and one pass defense against the Browns and two tackles against the Patriots.
"He's doing a good job, he's battling. He's tough and aggressive," Wilson said of Hairston. "It's time on task with him, so the more he plays the better he'll be."
As the team returns to work after the bye week, adjustments are bound to be made following an 0-3 start. Whether Johnson returns to the starting lineup remains to be seen.
"He just needs to keep stacking days. When his number is called he's got to be ready," said Wilson. "We'll see how it plays out."