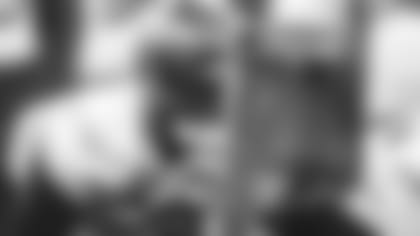 Enter the next contractor in the Lawson Brothers Destruction Company. And Shaq Lawson explained that while he and Carl Lawson aren't related, they play like they might be. And no, Shaq doesn't feel he has big Lawson boots to fill on the Jets defensive line just because of the name on his jersey or the position he plays.
"Not at all. I'm just going to give them the Shaq Lawson version," Shaq said this week. "He's a great guy. And everybody thought we were cousins for a long time. We really told people that in college. But nah, man, whatever the team needs me to do, I'm just going to do my job."
Carl, no news to Jets fans, was having a strong training camp as the edge rusher the team signed in March as an unrestricted free agent from Cincinnati. But he went down with his season-ending Achilles injury two weeks ago. And as big a blow as that was to head coach Robert Saleh, GM Joe Douglas and the organization, Douglas and his personnel team rallied and traded with the Texans for the next Lawson with giddyup.
And even though the Jets are Shaq's third team this calendar year and the second to trade for him, he seemed ecstatic to have gone from Miami to Houston to North Jersey.
"It's a blessing. I want a job," said Shaq, who began his pro career as the first-round pick, 19th overall, of the Bills out of Clemson in 2016. "The reason I left for Miami was the opportunity, take care of my family. At the end of the day, man, I'm waking up doing something I love every morning. In the NFL, it don't matter what team you're on, if you're on a team, somebody wants you. That's when I'll start worrying, when nobody wants you so, it'll be different."
And he wanted the Jets, in no small part because of Saleh's reputation.
"I know what type of coach they've got up here, who they brought up here," he said. "I think my energy matches his energy from when I saw him coach the 49ers defense the last couple years. When I found out I was coming up here, I was excited. That's what I like to do, be myself.
"I could tell Head Coach likes dogs and I felt like I meet what he wants."
By implication, he didn't feel as much himself with the Dolphins, where he played a 3-4 outside linebacker, as he did with the Bills, where as a member of their four-man line, "that was the last time I felt like I was myself."
What kind of a self is Shaq the player? Not the same as Carl, needless to say, but of similar size, Shaq at 6-3, 267 and Carl at 6-2, 265.
And seemingly cut from the same cloth, especially around the edges. Of the 86 NFL defensive linemen with 1,000 defensive snaps over the past two seasons combined, he, like Carl, is among the best at producing QB hits in the fewest snaps. Here are the league's top five (snap counts from StatsPass):
Table inside Article

| D-Lineman | Team(s) | DSnaps | Sacks | QBHits | QBH/Snap |
| --- | --- | --- | --- | --- | --- |
| Carl Lawson | CIN | 1,190 | 10.5 | 54 | 22.04 |
| Joey Bosa | LAC | 1,395 | 19 | 58 | 24.05 |
| Chris Jones | KC | 1,351 | 16.5 | 48 | 28.15 |
| Shaq Lawson | BUF-MIA | 1,057 | 10.5 | 36 | 29.36 |
| Josh Allen | JAX | 1,043 | 13 | 34 | 30.68 |
So when next year comes around, assuming both Lawsons remain with the Jets, perhaps some real pass rush fun can begin, along with the nicknames. Like the aforementioned Lawson Brothers. Or the CLAW and SLAW attack. Sponsored by Red Lobster, naturally.
But there's lots of time for that. However, not many days, let alone months, remain for Shaq Lawson to get up to speed for the Sept. 12 opener at Carolina. But he's good with getting synced at D-end with Bryce Huff, John Franklin-Myers and newly arrived Tim Ward and immersing himself in Saleh's and DC Jeff Ulbrich's scheme.
"This defense, you don't have to go think, you just go attack and be aggressive," he said. "It takes the thinking out of football. That's what I mean when I was being myself. A guy could bring my personality, actually be myself and show what type of guy I am."
See the Best Images from a Rainy Day at 1 Jets Drive