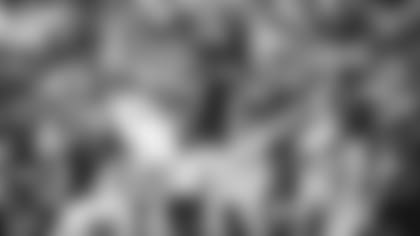 The Jets' defensive line was the star unit of Saturday's preseason road show in steamy Charlotte, NC, and that's saying something considering that the first five players on the depth chart got to watch the show from the Bank of America Stadium sideline.
Afterwards, one player who got to take in 30 minutes of it during the Jets' franchise-record 27-0 shutout win over the Panthers offered his rave review.
"Those guys are psychos," QB Zach Wilson said. "The way they train 'em and they teach 'em, they're psychos out there. They do a really good job. That's a position where they're training to be violent and you can definitely see it on the field."
To which at least one of the young, violent performers said thank you, in so many words.
"Psychos? Yeah," second-year linebacker and edge rusher Jermaine Johnson said, "we like to play like that."
With Quinnen Williams, Carl Lawson, John Franklin-Myers, Al Woods and even Micheal Clemons in workout togs watching the Jets' largest shutout by point margin in franchise history and their first road shutout since blanking Kansas City, 20-0, in 1990, the stage belonged to players like Johnson, first-round rookie Will McDonald IV, returning veteran Bryce Huff, new vets to the cause Quinton Jefferson and Bruce Hector, and UDFA rookie Deslin Alexandre.
Those six in fact combined for all five of the sacks and all eight of the hits on Carolina QBs Bryce Young — the first pick of the April draft who struggled in his first pro game action — and third-stringer Matt Corral (with Andy Dalton also observing). Four of the sacks came on third downs, and on one of them, early in the third quarter, Hector barged in, plucked the ball out of Corral's hands as he looked for a receiver, and so got the sack, the strip and the takeaway all in one motion.
With Jefferson scoring his first sack as a Jet, then McDonald his first as a pro, then Johnson and Huff splitting the third takedown of Young, the Jets went into the visitors' locker room at halftime with crazy numbers — allowing 32 yards, two first downs and 0-for-5 on third-down conversions as the defense's contribution to the 13-0 lead.
"Knock on wood. Don't jinx us," head coach Robert Saleh said when asked about this overwhelming force being demonstrated without his DL starters. "I think, one, a tip of the cap to Joe D [GM Joe Douglas] and his staff, just communicating on the type of player we bring into the room. Then two, to Brick [DC Jeff Ulbrich] and Aaron Whitecotton and the standard they keep in that room. They feed off of each other, cheer each other. We go as they go. I'm just really pumped for the group."
"We have high expectations, high standards. Everybody in that room wants to live up to it," said Johnson, who's making sure people see how hard he worked on his body and his game from year one of his Jets career to year two. "As you saw today, we can do that."
Two of their members can even share a sack, as Johnson and Huff did in their second-quarter takedown of Young, although JJ wasn't giving up the other half of the stat easily.
"I just did a spin move, I saw the tackle was still on me, so I got vertical, pushed him off of me, and then the quarterback was right in my face," he said. "Bryce is very good coming around the edge and that's what he did, and we met at the quarterback. I think I got there a little before, but that's OK, that's OK."
Jefferson is pumped like his HC for what the Green & White DL room can become once everybody meshes and rotates together, perhaps getting that ball rolling next week at home against the Buccaneers. He said this game performance was built on the past week of practice, which included just one joint workout with the Panthers in South Carolina.
"We had a great week of practice, even with our joint practice — we came out and executed," Jefferson said. "We just wanted to carry that over to this game. It was a great momentum-starter and we've still got a lot to go because there were still a lot of plays that we left out there. But we came in and did what we were supposed to do and I wasn't surprised about the outcome."
See the best photos from second preseason game of the 2023 season.