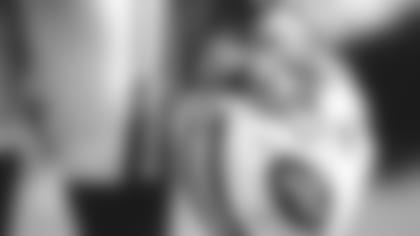 The Jets have cut 18 players to get their roster down to 71 players on their way to reaching their NFL-mandated 53-man active roster by 4 p.m. ET Saturday. Their roster had been at 89 players for Thursday night's game at Philadelphia following the trade of QB Teddy Bridgewater to New Orleans.
Five of the players were veterans who were released, including WR Charles Johnson, G Gino Gradkowski, DL Kendall Reyes and LBs David Bass and Kevin Minter. Bass played in 13 games with the Jets last season.
The other 13 players were waived, including QB John Wolford, who got the majority of the offensive snaps at quarterback against the Eagles, and DL Xavier Cooper and LB Obum Gwacham, who played with the Jets last season.
Here are Friday's 18 player moves, grouped by position:
| Player | Position | Experience | Transaction |
| --- | --- | --- | --- |
| John Wolford | QB | R | Waived |
| George Atkinson | RB | 3 | Waived |
| Dimitri Flowers | FB | R | Waived |
| Charles Johnson | WR | 5 | Released |
| Alex Balducci | G | 1 | Waived |
| Antonio Garcia | T | 2 | Waived |
| Gino Gradkowski | G | 6 | Released |
| Darius James | T | R | Waived |
| Dakoda Shepley | G | R | Waived |
| Xavier Cooper | DL | 4 | Waived |
| Mych Thomas | DL | R | Waived |
| Kendall Reyes | DL | 6 | Released |
| David Bass | LB | 6 | Released |
| Obum Gwacham | LB | 4 | Waived |
| Kevin Minter | LB | 6 | Released |
| Xavier Coleman | CB | 2 | Waived |
| Kacy Rodgers II | S | 1 | Waived |
| Terrell Sinkfield | CB | 1 | Waived |