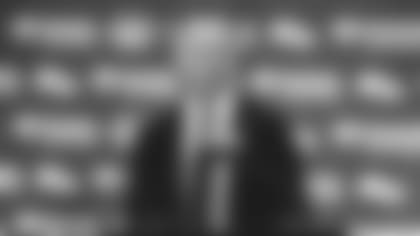 Jets CEO Christopher Johnson told reporters that the dismissal of Mike Maccagnan as the team's general manager, which Johnson announced earlier Wednesday in a statement, was the result of "diving deep into the organization," a process that Johnson began to undertake late last season and concluded only after being involved in the many discussions that led up to and through the free agency signing period and last month's draft.
"There's never a good time to make a decision like this, honestly," Johnson told reporters in a 13-minute conference call late this afternoon. "It was a decision that evolved and it took a while and maybe I was slow at that decision, but I finally came to it in the last few days."
Johnson was asked what changed in his mind in the last two months after he offered praise at the NFL owners meetings for the job that Maccagnan, hired as GM in 2015, was doing and the synergy between him and head coach Adam Gase.
"You'll also recall that I said Mike was in 'prove-it mode,' and I took that very seriously," Johnson said. "I think that there was pretty good synergy, but it was not everything that I was hoping for. And I made the decision that I want to find a better fit for this building, I want to find somebody who, just looking forward and not talking about Mike here, I want a great strategic thinker. It's more than a talent evaluation guy. I want a great strategic thinker, a great manager, a communicator, someone who can collaborate well with the building. I'm convinced we're going to find that person."
The owner declined to get into specifics regarding Maccagnan, saying, "I'm just not going to go there. I have great respect for the man, I really do, but we're going to be moving on with a new GM."
Johnson also said this was not a case of Gase, hired in January to replace Todd Bowles, "winning a power struggle."
"No, no. Look, this had nothing to do with Adam," the owner said. "I want a good give-and-take between our GM and the coach. This was not one person winning a power struggle. This was completely my decision."
Asked about the timing of the move, Johnson said, "It was only going through this particular offseason deeply that I understand how this organization was lacking in certain ways. This isn't a decision that I could've made at the end of the season. I could with Todd, I could not with Mike."
Johnson stressed that he was and is on board with the free agency signings and draft decisions his team has made and he had "no remorse at all."
"I think we did a great job here in this offseason, I really do," he said. "But adding these players, there's more to the job of being a GM than just adding great players. I think the fans should be excited about that. They should be excited about [Le'Veon] Bell and [C.J.] Mosley and [Josh] Bellamy and Quinnen Williams and all the rest. I think we brought in some great guys. This is more than Mike, it's more than Adam. It's about this team moving forward.
"This is a long-term plan," Johnson said. "We're trying to win football games. And I just felt we needed to have a new GM to help us do that."