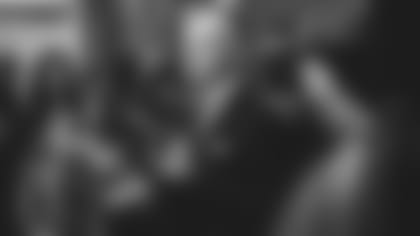 Less than 24 hours since the NFL's regular season reached a conclusion, eight teams are searching for head coaches. Jets CEO Christopher Johnson believes his franchise has a competitive advantage as it begins its search to find a new leader.
"Well I think we've got some good pieces. We have got some great young players, especially Sam. We haven't had what we think is a franchise quarterback in a good long time," Johnson said in reference to 21-year-old signal caller Sam Darnold. "We have almost 100 million dollars in free agency spending, both to sign our own players and to go out and get some new ones. We have six picks I think in the upcoming draft, including a couple of third rounders.
"And we've got a great building here. And we've got the New York market, which some people will be attracted to, maybe some won't," he continued. "But if you make it here, you're a freaking legend and that counts for something."
Johnson, who referred to Todd Bowles as a "good man" whom he hopes to remain friends with for years to come, informed Bowles Sunday night that he wouldn't be returning after four seasons at the helm. And on Monday, the Jets began their coaching search in earnest with the Jets CEO being assisted by general manager Mike Maccagnan and VP of player personnel Brian Heimerdinger.
"We will start our search for head coach immediately with the intent of hiring the best candidate, person and fit for this organization," Johnson told reporters. "I met with the players this morning to deliver the news to them personally. I told them how much I appreciated their efforts this year. I also told them we have a lot of work to do. I promised I was going to do everything in my power to help us get where we all want to be. Mike will work closely with me in the search for the new head coach."
The organizational structure won't change as both Maccagnan and the new coach will report to Johnson. Maccagnan made a bold move last March in order to get in position to select a talented young passer in April. And Sam Darnold, the No. 3 overall selection, displayed plenty of promise his rookie season. He threw for 2,865 yards in 13 games, connecting on 57.7% of his passes with 17 touchdowns and 15 interceptions.
"I've worked with Mike now for a while. We've developed what I think is a good plan. It's a plan we're in sync on and it really came together with Sam," Johnson said. "Now, we're going to build with Sam, build around Sam and with some great players we have on this team already. I think it's a good plan and I'm looking forward to working with Mike to take us to the next level including this coach hire."
As far as candidates for the position, Johnson didn't want to tip his hand.
"I'm going leave out who we're interested in or talking to," he said. "This is a very competitive business, there are a lot of people searching for head coaches right now, and it doesn't seem like a wise idea for me to say who we're interested in or pursuing."
Johnson did say the franchise won't pursue a coach who wants to have total control of personnel. But other than that, he is keeping an open mind for a team that believes has a big piece already in place.
"Somebody who has developed a young quarterback would be a plus, but that's not the whole story," he said. "This is about finding someone who can develop a young team. We have some great, young talent on this team and it's more than just developing a quarterback. But somebody who's developed a young quarterback would be a plus."
Pointing the finger at himself, Johnson took responsibility for the Green & White's recent failures and repeated his goal for the organization.
"It starts with the fact that the buck stops with me," he said. "I think I let the fans down here, and I'm going to do everything in my power to make sure that we get to and win the Super Bowl. I really am — that's not just hyperbole. I really believe that. The fans deserve better. I'm going to try to find a head coach that can get us there."