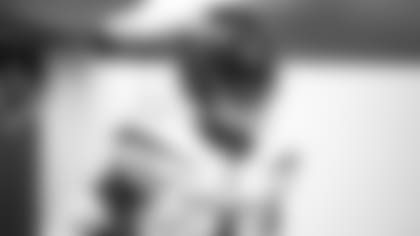 After an All-Pro rookie campaign and sticky coverage in his first six starts this season, Jets Pro Bowl CB Sauce Gardner is not seeing the ball frequently go his way in game action. With limited opportunities, Gardner is still searching for his first INT heading into Week 9.
"Me and D.J. [Reed] were both hoping to get our first picks last week," said Gardner, who had 2 interceptions as a rookie. "It would have been cool, but we didn't get many opportunities."
Gardner was targeted 3 times last Sunday in the Green & White's 13-10 overtime victory as Giants QBs Tyrod Taylor and Tommy DeVito threw a combined 14 passes (7 each). In addition, Gardner missed what many believed could have possibly been a pick-6 against the Cowboys in Week 2.
Gardner added, referring to the lack of targets: "It is something that I just have to play through. I just wish I could get that Dallas game back. I dropped one that game. But I just have to keep playing and go one day at a time."
With the Chargers and Pro Bowl QB Justin Herbert next on the schedule in Week 9, Gardner hopes to notch his first takeaway of the season and limit yet another one of the NFL's elite quarterbacks to limited success through the air.
"As a defense, our mindset is we just need to keep giving the ball back to our offense," Gardner said. "If we keep making that the main thing, good things are going to happen."
Gardner has picked up right where he left off after earning 2022 first-team All-Pro as a rookie. In six starts, he has been targeted 26 times (4.3 per game) without allowing a touchdown according to Pro Football Reference, which adds up to 6.0 yards per target. And as a unit, the Jets defense ranks No. 5 in passing yards allowed (164.3 per game), No. 8 in touchdowns allowed (5) and No. 4 in takeaways (13)
Herbert has registered 36 pass attempts per game this season – the second-most of any Jets opponent this season behind only Chiefs QB Patrick Mahomes – and it could be a prime opportunity for Gardner to snare his first pick of the season when the Bolts visit MetLife stadium on Monday night.
"Don't make the game bigger than what it is," Gardner said. "That is how we are always able to excel. Herbert is a pretty good quarterback and he just got paid. We are looking forward to the opportunity. We are competitors over here and they have a receiver group full of competitors as well."
Gardner and the Jets have fared well against the league's best quarterbacks. Against Mahomes and Buffalo QB Josh Allen, they allowed 17.7 points per game, 2 passing touchdowns and posted 5 interceptions.
To limit Herbert, Gardner will need to take away his top target in veteran WR Keenan Allen. A five-time Pro Bowler, Allen is off to the best start in his 11-year career, averaging a career-high 91.9 yard per game and 7.7 yards per target. He has 54 receptions (T-No. 8 in the NFL), 643 yards (No. 8) and 4 touchdowns (T-No. 13).
"He is just savvy," Gardner said. "He has been in the league a long time and there has been no drop off. You watch him back then and you watch him now, and there is not too much different. He has excellent speed and is an excellent route runner. I am looking forward to it."
Other than Allen, the Chargers will be without their 1,000-yard WR Mike Williams after he was placed on injured reserve in Week 4 with a torn ACL. Wideout Josh Palmer is second on the team with 377 receiving yards and 23 receptions and LA's first-round pick in April's NFL Draft, WR Quentin Johnston, has 12 receptions for 114 yards.
Regardless of who lines up across from him, Gardner is embracing the challenge.
"I'm just always trying to dominate," Gardner said. "The sky's the limit for me, that's how I feel. My teammates feel the same way about me, coaches as well, so I'm not just going to cap my expectations for myself, but anything that's possible, I'm trying to achieve it."
See the Jets back on the field on Thursday to start Week 9 practices.