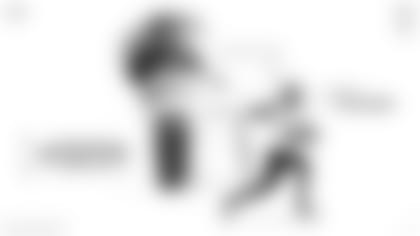 Jets CB Sauce Gardner was named the NFL's Pepsi Zero Sugar Rookie of the Week for Week 5 after helping lift the Jets to a 40-17 victory against Miami at MetLife Stadium last week.
On Miami's first offensive snap, Gardner (6-3, 190) set the tone blitzing off the edge and hitting QB Teddy Bridgewater in the end zone. The rush forced Bridgewater to throw the ball away short of the line of scrimmage, resulting in an intentional grounding penalty and a safety.
"It did what we all knew it was going to do," HC Robert Saleh said about the call. "I'm not saying we knew we would get a safety. We got an explosive play out of it. You don't want to live that dangerously all the time, but we felt we could get an explosive play and it worked out."
Bridgewater did not return after the hit and Gardner later registered his first NFL career interception in the second quarter off Bridgewater's replacement, QB Skylar Thompson.
"With that Sauce interception, he's been locking people up all season," DL John Franklin-Myers said. "So, credit to him."
The No. 4 selection in April's NFL Draft out of Cincinnati finished the game with 5 tackles, a pick, a pass defense, the safety and a QB hit.
In addition, Gardner and CB D.J. Reed defended well against the All-Pro WR Tyreek Hill and second-year standout WR Jaylen Waddle – who had 104 receptions and 1,015 yards as a rookie. The wideouts finished with a combined 10 catches for 70 yards in the game.
"I just think that we wanted the challenge," Reed said. "Like Sauce was saying all week, we been dishin' out crazy work. So that was the whole week's motto. We got to line up with them and we're not going to just give you anything. If you catch something, you got to earn it and I felt like that's what we did today."
According to Pro Football Focus, Gardner ranks second among all rookie CBs (min. 110 snaps) with a 68.4 coverage grade.
Gardner is the third Jets player to win the award. WR Garrett Wilson won for his performance at Cleveland in Week 2 – 102 yards, 2 touchdowns on 7 catches – and RB Breece Hall won in Week 4 after the game at Pittsburgh – 66 yards rushing and a touchdown.