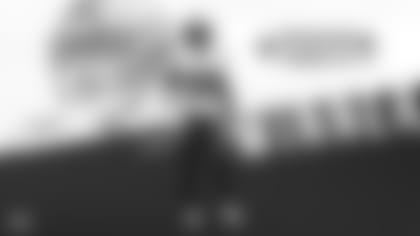 Jets CB Brandin Echols on the Pepsi Zero Sugar Rookie of the Week in Week 15.
Echols (6-1, 202) had 3 pass defenses and a pick-six, his first career interception, against the Dolphins last Sunday. He led all NFL cornerbacks with a 93.3 coverage grade in Week 15 according to Pro Football Focus, and fifth overall with an 84.2 overall grade. The Kentucky product has started all 11 games he's played in -- he missed three games with a quad injury -- ranks second on the team with 7 PDs with his 49 tackles and 1 tackle for loss. His 542 snaps ranks eighth on the defense. 
"I'm glad [the injury] happened because I could sit back and reflect on myself as a person and see what I needed to work on and be done," Echols said. "I really think me getting sidelined was a good thing." He added: "I feel like I've grown a lot, especially with confidence. I'll speak for all the other [Jets] rookies – just the confidence to get better every week going against different teams and not going out there panicking."
Echols' pick helped tie the game at 24 in the fourth quarter. He picked off Tua Tagovailoa's pass intended for TE Hunter Long and returned it 20 yards for the score.
"It was good team communication across the board," Echols said. "I want to give credit to Michael Carter II. He called out a play and I trusted it, so he led me to get my first interception. ... It felt good, but I also knew we had more work to go out and do. Even though I got the interception, my focus was to get back on the field and try and make another play."
This marks the fourth time a rookie on the Green & White has won the award this season (QB Zach Wilson twice, WR Elijah Moore).
"I always challenge [the CBs] that they got to get the ball," HC Robert Saleh said earlier this week. "That's the next step that group has got to take and we did get the pick-six, which was awesome. But that's the next step. Can we go get the football? It's really cool to see them getting their PBUs and playing sticky coverage in man. When we get more rush from the outside and the rush and coverage starts tying in together, it can become a bit special. They've developed really nicely and they've proven that they're NFL players. Now the next step for them is to prove that they're NFL difference makers and you do that by taking the ball, which we did [Sunday]."