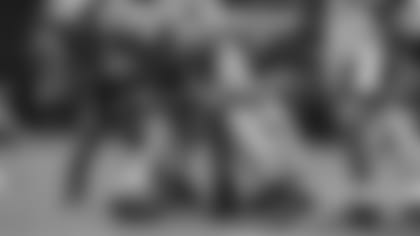 Of all the Jets getting ready to ramp it up against New Orleans on Saturday night, the one player you might think would be the least excited for this game is the one who's been in more training camps than any other player on the roster — this is his 13th summer in pro football pads — and the one who's almost played more games vs. the Saints — he's gone against them 19 times in the regular season and postseason — than all the other players on the roster combined.
But you'd be wrong. Ryan Kalil, in his own calm, rational center's way of thinking, can't wait. He's eager to get some licks in against those guys in the black and gold with the fleur de lis on their helmets.
"Well, obviously getting back into it, thinking that you were done and its almost like having a second chance," Kalil said after today's practice, organizing his thoughts about getting his first game action of the summer. "We all love this game and sometimes it takes walking away to really realize how much you love it. I got that opportunity and obviously I'm very fortunate to get back after it."
The Jets talked Kalil, the 12-year Panther, into ending his retirement earlier this month. He's been working himself up to playing speed ever since, and after taking some turns in Sunday's Green & White practice at MetLife and in practices this week, head coach Adam Gase has pronounced his new No. 55 ready for what will likely be his only preseason game action before opening day Sept. 8.
"I think every day is probably a huge jump for Ryan," Gase said. "You can go back and watch tape. Him getting in there on Sunday was big. Now when he comes back, evaluates that film, and then comes back out, he's got an idea of how it sounds, how it feels when you're going a little more up-tempo."
Kalil said he hasn't yet had an "I'm back, baby" moment in his three weeks in North Jersey.
"Not really. Since the moment I've gotten here, it's felt like I've really had to play catchup, so I really haven't had a moment to just do that," he said. "I'm probably a lot more giddy than other guys who've been doing training camp for a little bit longer than me. I think once we sort of come down from the preseason and get ready for Week 1, maybe that'll happen, but right now I'm trying to be as much of a sponge as I can and soak everything in."
Gase's plan for his first units is roughly "a half and a series," which will be adjusted as the game unfolds. For his centers, Kalil and Jonotthan Harrison, it's about half of that.
"We'll kind of see how the drives go," the coach said. "We're targeting to see if we can kind of get him rolling there for about a quarter. I really want Jonotthan to be with Sam [Darnold] as well. We'll probably split that time."
While Kalil acknowledges his familiarity with the Saints, he said he's more been focusing on the playbook and the game plan rather than psyching himself up for a personal "braggin' rights" battle. He's more interested to see how he handles the "wrestling and straining" of playing OL in a game, how he fits with Darnold in a game situation, and how his linemates respond to their biggest challenge of summer.
"My feelings about Sam are that obviously you've seen the way he plays, but it's really impressive, the way he's able to manage and handle himself, especially being a second-year guy," Kalil said, adding, "More than my own personal stuff, this locker room in general, this is a really great group, and in my room, too. I'm excited to get going with these guys."