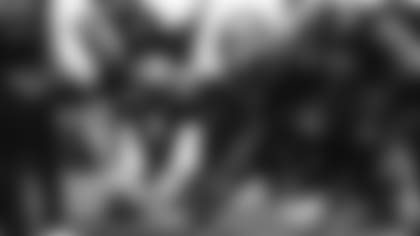 Aretha Franklin sang passionately about R-E-S-P-E-C-T. C.J. Mosley knows just what the Queen of Soul meant.
"Wins and losses happen in this game, that's part of it," the Jets linebacker said after his team's 33-18 home defeat against the Philadelphia Eagles. "But at the end of the day, it's all about respect, and right now, teams are not respecting us. That's well deserved, whether it's by self-inflicted wounds or with the history of the Jets.
"But right now, none of that really matters. What's in the past doesn't matter. The guys that are here, the coaches that are here, we can affect the future and we can affect it right now. Today, we didn't do our job and the results are the results. Tomorrow we have to the chance, we have the God-given ability to make a difference. That's my mindset every time I come here."
Mosley wasn't just talking about lack of respect in general. He mentioned a few things about the Eagles that caught his attention.
"It was all over the field. I saw it," Mosley said. "Coin toss, no handshake. [Eagles DL Fletcher] Cox was laughing at Coach Saleh. He was fighting for us, trying to get a play called. You see that stuff, you feel that stuff. As a competitor, as a warrior, when you're fighting with your brother, that [ticks] you off. That's been going on for a long time."
But Mosley saved some critical remarks for himself as well, faulting his play on Philly's first touchdown of the game, when TE Dallas Goedert went past him down the field for a 36-yard score, his first of two TD passes
"I'll take 10 points and include the extra point," he said in terms of his blame. "I gave up a touchdown in the first quarter. I had a very ill-advised encroachment [late in the third quarter] that luckily was only three points, but that could've kept them out of field goal position.
"So at the end of the day, they executed more than we did. And that's what it came down to."
It wasn't all bad, especially for Mosley, as the defensive leader got a game-high 13 tackles, raising his season total to 101 tackles. That's the first time he's been above 100 tackles since 2018 and the fifth time in his outstanding career. And he's not alone in providing those kinds of highlights, but there haven't been enough so far.
The Jets defense has ridden that roller-coaster all season, starting off on the rise, hitting a four-game low in points and yards allowed, then climbing back up with a better showing vs. Miami and last week's win at Houston. But it didn't carry over as the Eagles became only the second opponent in franchise history to score on seven consecutive possessions in a game. The other was New England, with Steve Grogan at the helm, scoring TDs on all of its first seven drives at home in 1978.
Yet it's all fixable, as head coach Robert Saleh reminded his troops after the game.
"Just the importance of being detailed and precise in everything we do," CB Bryce Hall characterized Saleh's message. "And it's in all phases, offense, defense and special teams. We're a better team than what we showed tonight, and it just comes down to execution and doing our job at a high level. And it's important, when we get into these situations, just to not beat ourselves up."
"Every great player, every Hall of Famer, everybody starts at the same level," Mosley said. "So to say that just because we have guys that are not as accomplished or don't have experience, I don't really believe in that, because at one point I didn't have any experience and I had to learn on the fly, I had to learn through my mistakes, I had to learn through the leadership and the coaches that I had. And so every player is going to have to go through the same thing."
And Mosley offered a bold prediction, one he's preached ever since the offseason and he's sticking with it.
"When things change, they're going to change quick," he said. "I come to work every day, I'm waking up every day with that mindset that the next day is going to bring that change. Will it happen? When will it happen? I don't know. But when it does happen, we're going to be ready for it."
See Best Images from the Game at MetLife Stadium