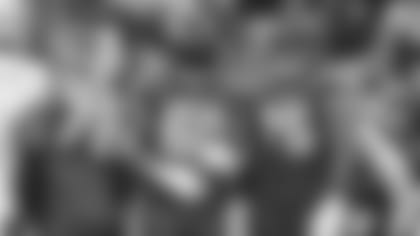 Jets center Connor McGovern said he could sense the often glacial shift in a team's culture back in 2018 when he was playing for Denver. The Broncos, riding a three-game winning streak after having rushed for 300+ yards at Cincinnati, went to San Francisco to play the then woeful 49ers.
The Niners, with Robert Saleh as the defensive coordinator, were on the cusp of altering that team's culture in a season that would end 4-12, capping a four-year run of losing records. That would change -- big time -- in 2019.
"Trying to change culture does not happen overnight, changing the narrative behind a whole organization does not happen overnight," said McGovern, who has played 100% of the Jets' snaps on offense this season. "I kind of had my hand in it when San Francisco flipped."
After going 36-11-1 in 2011-13 (and losing in the Super Bowl after the 2013 season), the Niners did not have a winning record until the 2019 season, going 13-3 and playing in another Super Bowl, losing to Kansas City.
"We [the Broncos] had just rushed for 300 yards on Cincinnati and we were going into San Francisco expecting a late-season push," McGovern said. "They hadn't won many games and we thought we would rush for another 300 yards. San Fran went and beat us really bad [20-14], and that kind of shot them into a fantastic year, a Super Bowl run."
So instead of the Broncos stacking the game in a winning streak, the loss sent Denver, which rushed for just over 100 yards in the game, on a four-game slide to end the season while the Niners headed in the opposite direction.
"I watched what happened in San Fran and believe we can do that here," McGovern said. "Once those tides switch they can switch fast and switch strong. After the games we won this year, I think we thought, OK, here it is. Maybe we stressed [those wins] too much and got a little tight after winning. But I truly believe the tide's going to turn. Saleh has been on 4-5 teams that have switched that, to be winning programs. I see it and want it really bad. I'd like nothing more than to take pride 10-15 years down the road and the Jets are winning. I'd be proud to say I took my lumps, my bumps and my bruises to help this organization."
On the collegiate level, the Jets' second-year CB Bryce Hall, one of the team's young veterans, was on hand as a freshman in 2016 when the University of Virginia went 2-10 under first-year coach Bronco Mendenhall. The next season was a bit better at 6-7, then 8-5 in 2018 and a win in the Belk Bowl. The Cavs were 9-5 in 2019 and earned a trip to the Orange Bowl, losing to Florida and current teammate La'Mical Perine, the game's MVP.
"For me, it's being one of the older dudes in the secondary, even in only my second year, to take on the responsibility of being a leader and helping push the organization to where we want it to go," Hall said. "It would be an honor to be a part of flipping this organization.
"When I got to Virginia, we were 2-10 but able to flip it, going to Orange Bowl, winning the ACC championship. I've been a part of that, I've seen it and know how it goes. It's something cool to be a part of. Certainly that's what I would cherish to flip and change things here. It's the NFL, things are a bit harder. But that's the mentality I have, not to run or jump ship, but to be a part of changing this organization and doing amazing things, which I believe it will."