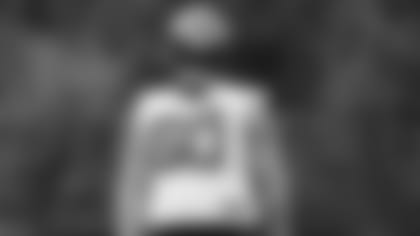 A key component to how well Zach Wilson and the Jets quarterbacks perform this season is the offensive line in front of them. And the early progress report from the man in the middle of that unit is that the OL is feeling frisky just like many other position groups at the start of training camp.
"The excitement around the building is phenomenal," center Connor McGovern said after Thursday's second practice of camp. "There's a lot of new faces, obviously, with players and coaches, and we've had some of the best practices I've seen early in camp. Everybody's playing hard, playing smart, doing it the right way. It's exciting."
Some of that excitement comes from Year 2 for a core group on the OL — LT Mekhi Becton, RG Greg Van Roten and McGovern. There's also RT George Fant, who'll be dueling with recently signed Morgan Moses from Washington. And at LG Dan Feeney arrived with lots of snaps and starts for the L.A. Chargers the past three years, but he's up against the promising first-round rookie, Alijah Vera-Tucker, and Alex Lewis, last year's opening-day starter.
"We've just added even more depth," McGovern said about eighth-year player Moses in particular. "If you go back and count starts, we're a pretty veteran offensive line in that sense. I know some of us haven't played that many years, but we have a lot of starts as an entire line.
"And competition breeds the best in everybody. Every time I've been around a good offensive line, there's been competition, and you need depth. The five guys you start with at camp aren't normally who's out there in Week 17. Knock on would, it would be, but that's not really how the NFL goes."
Another reason for optimism, for McGovern individually and the line, is the wide zone scheme being installed by coordinator Mike LaFleur and offensive line/run game coordinator John Benton.
"This line is definitely built for the outside zone run game," the center said. "We've got a bunch of athletic dudes out there, and that's the family tree this offense comes from. For me especially, it's kind of been my bread and butter, what fits my strengths best is wide zone, so I'm fired up about it. We've got the backs and tight ends and O-line to get after it. We're not all those 350[-pound] mauler guys. We're all around 300-320, pretty quick and light on our feet."
Does that include Becton, the Jets' 350-something second-year blind-side protector?
"For a guy that big, he's light on his feet," McGovern said with a chuckle. "A guy that big, you get somebody moving laterally, for him it's a touch — for me it'd be my full power — but he just touches them and they fall over because they're going laterally. He defies your normal wide zone offensive lineman, but he's so quick and he does it spectacularly."
Adding to the atmosphere is the imminent arrival of newly signed QB Zach Wilson. And finally at this time, McGovern is upbeat because personally he's feeling fine physically. There's no doubt McGovern's a tough customer, making 16 starts and missing only 20 snaps all last season. But there's also no doubt he battled through hamstring, knee, elbow and back issues that landed him on the Jets' injury report five weeks and tested him to get ready for a full turn in the pivot on gameday.
"I've been working those hamstrings after Week 2 of whatever that was," he said of a September injury against San Francisco ."I feel great, my body feels good. Like I said, the scheme fits me so well. I'm really fired up about it. It's what I was built for, what I ran in Denver for the Jets to want me here. So I'm fired up about it."
See the Best Photos from Thursday's Practice at Jets Training Camp