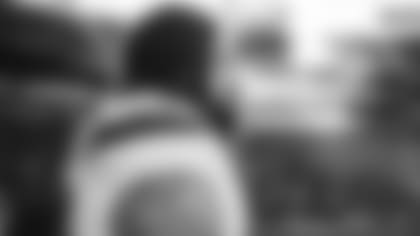 The Jets dealt with a lot of change in the 2022 season, specifically along the offensive line and at quarterback. Perhaps no one dealt with more moving pieces than center Connor McGovern, the only player who took all 1,114 offensive snaps and started 17 games.
"Definitely not perfect, but got better," McGovern said of his performance. "I think every year I've been here I've improved and I'm coming off my best season so far. So from that standpoint, I guess it feels pretty good, but nothing feels better than going to the playoffs and winning.
"Just made strides in all aspects of the game -- run blocking, pass blocking, very few penalties, all that kind of stuff. So it was just overall as a pretty good year for myself from an improvement standpoint."
McGovern snapped the ball to four quarterbacks, blocked for five running backs and communicated alongside four right guards (LG Laken Tomlinson started all 17 games).
"I think everybody responded well," McGovern said. "This team has a great mentality of the next man up and not only to come in and get through a game, but really perform. We weren't perfect and there's some stuff we need to improve in the latter part of the season, but it's a tough game. Guys really stepped up and definitely gave it their all and played some pretty good football."
Despite the change surrounding him, McGovern acknowledged the opportunity the team had at 6-3 to take a lead inside the division before missing the playoffs down the stretch.
"That was definitely a high moment, I've never been in that spot in my career," he said. "To have the opportunity to go and be No. 1 in your division is pretty special. It's always nice at the top, but this league will humble you fast and quick, and it did that. It was obviously a moment that everybody can use to grow from and learn from and realize that no matter how well you're doing, it can it can turn out like that."
McGovern, who signed with the Jets in 2020, is set to become an unrestricted free agent in March. The former Broncos fifth-round pick in 2016 out of Missouri not only dealt with a lot of change this past season, but also in his three years in green and white. He's played for two head coaches, two offensive coordinators and has seen a young team blossom from 2 wins in 2020 to 4 in 2021 and 7 in 2022.
"I think we were either the first or the second-youngest team in the league last year," he said. "Then this year, Joe [Douglas], the Johnsons [Woody and Chris], Rex [Hogan] and [Robert] Saleh went out and got a really good group of core guys that brought the age up a little bit and experience up a little bit. When you're going out and getting those pieces in, they come in they mesh well and they perform well. That's how you turn a team around fast.
"Then obviously you go and have a really good draft class, which always helps a lot, too. In my opinion, the biggest thing that that changes culture is the people. I think Joe Douglas and everybody in the front office and then Saleh and his staff have done a great job of bringing the right people and turning this culture."