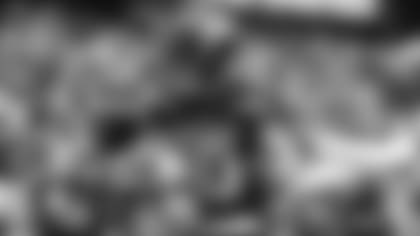 As 2021 has morphed into '22, good things continue to materialize for Braxton Berrios. And the Jets' "whatever/wherever" man had a good call-of-the-wild anecdote about where he'd been yesterday en route to where he is today and where he wants to be tomorrow.
"I think it's natural to hear all those voices in your head," Berrios said of the doubts he might have had when he spent year one as an NFL pro on New England's Injured Reserve and began year two by being placed on waivers by the Patriots. "There's the old story about two wolves living inside you. One is good, one is bad. The one you feed is the one who wins. That kind of encapsulates what that was like. It wasn't an ideal start. Luckily, I found a home in New York."
And he's found himself a fan favorite. At first Berrios was a punt returner who did some other offensive and special teams jobs. But this season, his first as a full-time kickoff returner, he couldn't have done much more. His 30.4 yards/return average is a strong favorite to finish No. 1 among all NFL kick returners. He unfurled a 79-yard runback against the Eagles that put him squarely in the Pro Bowl conversation and, four days after he was named first alternate as an all-star returner, he responded with a 102-yard TD return vs. the Jaguars.
"Thanks for everybody who retweeted or voted. It makes it more special, more of a community sense," he said. "Just like when we show up at MetLife and the crowd goes nuts and the stands are filled, you realize this is way bigger than just the people in this facility. ... You realize how much people care, how much it means to them, especially when we're doing good things."
But for Berrios, the good things didn't stop when the Jets' return teams went to the sideline. He became a go-to target for rookie QB Zach Wilson, early on because he showed Wilson "I was somebody he could trust and rely on," and as the season wore on and injuries and COVID took their tolls, because he was one of the few constants in the WR corps. As a result, he's second on the team in receptions with 46, for 431 yards, and second in touchdowns with five.
Two of those five TDs have even come on end-arounds as Berrios took advantage of some interesting wrinkles in the offense of Wilson and coordinator Mike LaFleur. And that puts him in some rare company in franchise history — he and Keyshawn Johnson, in 1998, are the only Jets wide receivers to rush for two TDs in a season. One of Johnson's rush TDs came in the playoffs. Both of Berrios' scores came in a three-game span sandwiched around his KR TD.
All that production puts Berrios in a promising position with his current contract expiring after this season. With only Game 17 at Buffalo on Sunday left on the schedule, reporters asked him after Wednesday's practice about his future, as a Jet or elsewhere.
"Obviously, I'm strictly focused on finishing this season with this team," he said. "I've said it before. I love the organization here, the coaching staff, the guys in the locker room, the chefs, the trainers, through and through. I'd love to be here. But that's something I guess for Jan. 10 and moving on."
Until then, it's all Bills all the time, except when he sight-adjusts from wolf-influenced anecdotes to one that hints of rolling countryside and maybe roller-coasters as well, to let all his fans, new and old, understand how he traveled to where he is today.
"I've got a long way to go, a lot to improve on, but the general consensus is I made good on my opportunities," Berrios said. "It's obviously tough when things don't work out the way you think they're supposed to. That goes back to putting your head down and working, and understanding that you're trying to get to a place that is very hard to get to. There's going to be valleys, there's going to be hills. As long as you keep at it, good things are going to happen."
See the Top Practice Images from Wednesday of Bills Week at 1 Jets Drive