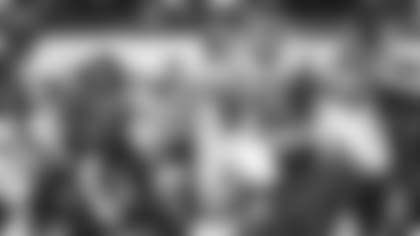 In the aftermath of the euphoric ending to a night that began with the season-ending injury to QB Aaron Rodgers, Jets special teams coordinator Brant Boyer offered the expected praise for the guy -- undrafted free agent Xavier Gipson -- who returned an overtime punt for a TD. Boyer, in his eighth season with the Green & White, also had special praise for a special, special teams standout in reserve cornerback Bryce Hall.
"To see guys that went all the way over to the other numbers like [Bryce] Hall, went over and blocked it, he lost his guy, so he went and tried to block somebody else and ran all the way from the right numbers to all the way at the goal line and made the saving block," Boyer said. "For the last guy that they had and the overall strain that we preach all the time, and nobody is going to play harder than us. They did it on that play and it showed. I was really happy for the group."
Four days after Gipson's magical ending, Boyer might lead his special teams units into Dallas with a new kicker. Former Cowboys K Greg Zeurlein, who converted all three of his field-goal attempts (26, 43 and 30 yards) against the Bills, is dealing with a groin injury and is questionable for Week 2 action.
"It is 50/50," HC Robert Saleh told reporters. "We are working out kickers today in the event that he can't. It is not serious, but serious enough to bring this game into question."
Without minimizing Gipson's game-winning OT (only the third OT punt return TD in NFL history, mostly recently by Patrick Peterson in 2011, but also Tamarick Vanover in 1995), Boyer's comments about Hall encapsulated what was a total team effort it took to overcome the injury to Rodgers and the three-time defending AFC East champion Bills in the team's regular-season opener.
"I thought these guys did a hell of a job playing together and sticking with the belief that we're going to win and things like that," Boyer said on Thursday. "Specifically on the return, that was a really good team effort, hell of an individual effort as well. Team-wise, they blocked it exactly the way we taught them how to block it. They executed exactly how it's taught. I mean, it was awesome to see. You see the guys bailing and doing exactly what we're teaching them and they created the wall, they lose their guy, they pick up extra guys. I thought that the guys did a fantastic job and what a cool moment for the entire team."
Hall, who was selected in the fifth round (No. 158 overall) out of Virginia by the Jets in the 2020 NFL Draft, played 21 snaps -- all on special teams -- against Buffalo. Only three Jets (Justin Hardee, Ashytn Davis and Jamien Sherwood, each had 22) logged more snaps. The Jets punt team coverage limited the Bills to only 4 yards on Buffalo's lone return. By contrast, Gipson, who was voted the AFC Offensive Player of the Week and the Pepsi Zero Sugar Rookie of the Week, returned two punts -- the second was the 65-yard game-winner.
"As soon as I saw him break back to the left, I knew it was going to be a big play," Boyer said. "What he's taught is to always set it up in the middle and try to set up to buy some time to create the wall and he did a hell of a job executing."
Gipson, out of Stephen F. Austin, was among two UDFAs (WRs Jason Brownlee) who managed to distinguish themselves in OTAs and training camp, earning spots on the 53-man roster. 
"Obviously, he's [Gipson] a talented, talented kid," Boyer said. "Still has some growing up to do as far as learning and how to do things and the tracks to run and everything like that, but the kid is ... he is a special kid to be around. Always with a smile on his face, always working hard. He's always doing the extra. Everything that you give him, he takes it in. He's like a sponge taking in all the learning and stuff like that. Is there going to be a hiccup or two on the road? Sure, but that's part of every rookie's learning, but he's making good decisions, catching the ball and he's doing a hell of a job. I thought the whole team, like I said those are the moments once in your career specifically, that those kids will never forget, and I think that is so cool."