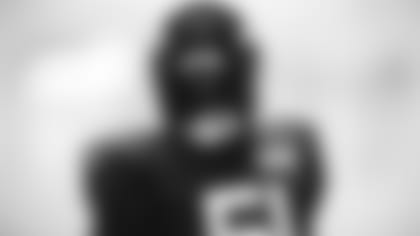 Brandon Copeland, in his first public remarks since beginning his four-game suspension for violation of the NFL's performance enhancing drug policy last month, had a dual message today. He said he's eager to return and help the Jets on the field, and also that he is planning to file a lawsuit this week against the company that makes the supplement that he took that got him suspended in the first place.
"I don't hold my head down or anything like that," Copeland told reporters after practice. "I know the person I am, my family knows the person I am, people who know me know the person I am. If anyone knows my journey and my story, it really doesn't make sense for me to try to cheat the game or cheat myself, coming off the best season of my life, on the field, off the field. It just doesn't make sense."
Copeland, the Penn grad and undrafted free agent who entered the league with the Ravens in 2013, said he has failed only one drug test in his career, the one administered by the league on April 15, which happened, he said, because "unfortunately, this supplement in particular was contaminated." He said the company that makes the recovery supplement, which he wasn't legally able to name yet, advertises that it works with Olympians and professional athletes. He checked the label of the supplement for substances banned by the NFL and sought guidance from multiple nutritionists before using it.
"It's very frustrating," he said. "I think one of the things you wonder in a situation like this is what else should I do, what else would you advise me to do to change the outcome? ... A lot of people hear it, all you see on ESPN is 'banned for four games, PED use,' so you assume one thing. But again, what else would you tell me to do differently?"
Copeland said he doesn't blame the league's policy, saying, "I understand if you want to level the playing field for everyone — I want to be on a level playing field as well." And while he said he's still being upset with the supplement company, "I understand that everything happens for a reason. I understand God doesn't make mistakes. You build from it, you learn from it."
One thing he built on was his relationships with his family, especially his wife and his new son, who turns 3 months old Thursday. He called the past month "a blessing in disguise."
"When I tore my pec in 2017, the first few weeks I literally just tried to be on top of film, right after the game. Then I realized for the first time in my life since fourth grade, I wasn't playing football, so why don't I take advantage of this time and catch up with my mother, catch up with my wife and child?"
This year, he said, "I went down to Florida to train. My wife came down, my newborn child came down, my mother came down, my aunt came down. I was training all day, then at night I got to enjoy time with the family and catch up."
As a result, Copeland, who posted a variety of career bests last season with the Jets (10 starts, 5.0 sacks, 14 QB hits, 35 tackles, 4.0 tackles for loss/no gain), gave every indication he's ready to return to action Sunday vs. Dallas.
The Jets haven't officially activated Copeland yet but head coach Adam Gase today also was eager for Cope's return.
"You're looking at a guy that was playing really well before he left, who's a starter," Gase said. "You get him back and then [Jordan] Jenkins gets healthy. All of a sudden we get two starters back, we are close to getting a lot of starters back. We are getting a couple every week, it seems like."
After devoting more September time than usual to his family while still training and studying for his return, Copeland says he's ready for October through December.
"Now when I come here, I'm all in. I have 12 straight games to go," Copeland said. "They understand how hungry I am. I think this team understands how hungry I am."