Inside some numbers ahead of Sunday's Jets season opener against the Bengals at MetLife Stadium:
1. Take No Prisoners
Will this be a game of take-and-take? Both the Jets (30 TAs, plus-6 TO margin) and Bengals (28 TAs, plus-11) were top turnover teams last season and big reasons were their leading DBs. Jets CB Darrelle Revis had a personal-best nine takeaways last season (5 INTs, 4 FRs), a career high and more than any other NFL corner the past three seasons. He was beaten out overall only by the Bengals' Reggie Nelson, whose 10 TAs were more than any other safety the past three seasons. (But Nelson went to the Raiders as a UFA in the offseason.)
2. Ruling the Roost
In this week's "7 Points" piece, we noted the Jets have a current nine-game home winning streak over the Bengals. This streak tops the eight in a row at home the Green & White scored over the Patriots from 1966 (when they were called the Boston Patriots) through 1973 and the current seven-game home win streak over the Buccaneers. The last time the Jets lost to the Bengals at home: by 31-30 in their home opener at Shea Stadium in 1981. The last time they lost to the Bucs at home? Never.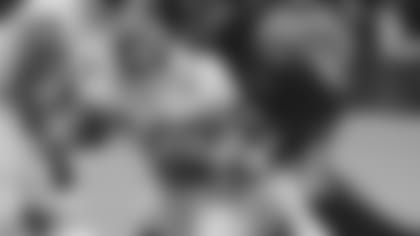 3. Rushing Record Progression
RB Freeman McNeil set a franchise record with 202 rushing yards in the Jets' 44-17 win at Cincinnati in the first round of the 1982 AFC Playoffs. Here's how the single-game rush mark has increased over the years:
168 yards — Matt Snell (rookie), vs. Oakland Raiders, Oct. 10, 1964
180 yards — Matt Snell (rookie), vs. Houston Oilers, Oct. 17, 1964
202 yards — Freeman McNeil, @ Cincinnati Bengals, Jan. 9, 1983 (playoffs)
203 yards — Curtis Martin, vs. Indianapolis Colts, Dec. 3, 2000
210 yards — Thomas Jones, vs. Buffalo Bills, Oct. 18, 2009
McNeil's yardage was the only time the Jets rushing record was set on the road. Jones' was the only time it was set in overtime and in a loss.
4. Opening Day Harbinger?
Many see a Jets win over Cincinnati on Sunday as essential if the Green & White are to advance to the playoffs for the first time since 2010, and if that happens, it would be the Jets' sixth consecutive opening-day victory, all coming at home. But what does the opening day result mean in the long run?
Jets' record with win on opening day (27 times) — 211-201 (.512), 8 playoff berths
Jets' record with win at home on opening day (10 times) — 74-81 (.477), 2 playoff berths
Jets' record with loss on opening day (29 times) — 176-256 (.407), 6 playoff berths
Jets' record with loss at home on opening day (9 times) — 63-74 (.460), 3 playoff berths
In short, a win on opening day is no guarantee of a winning season, but it may portend a slightly better record than a loss in the opener might.
Top Snapshots from the Jets-Bengals Series