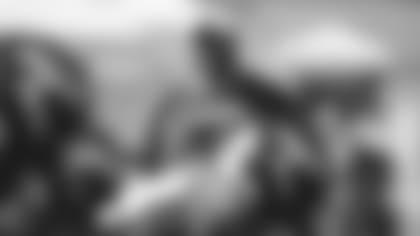 The calendar has turned to 2020 and the Jets are moving full steam ahead. After going 6-2 in the season's second half and finishing 7-9 overall, the personnel and coaching staffs are huddled up at One Jets Drive for a significant review.
"At the end of this week, we're going to have our end of season meeting with the coaching staff, so the offense and defense will go over every single player," said Jets GM Joe Douglas. "This is the most important meeting of the year, in my opinion. This is where it really sets the stage for the offseason and the decisions that are going to be made moving forward."
While Douglas was pleased with the way the team stuck together, he said 7-9 was not where the Jets wanted to be and the goal every year will be the playoffs and the Super Bowl. According to Overthecap.com, Douglas enters the offseason with close to $60 million in cap space and the Jets own the No. 11 overall selection in April's Draft.
"There's a lot of work to do. We've got 20-plus UFAs and RFAs," Douglas said. "We have eight draft picks, four of which are in the top 80. So there's a lot of work, there's a lot of detail and there's a lot of preparation that's going to go into the coming months for us to execute our plan."
The Jets used a franchise-record 73 players in 2019 as 20 players ended up on injured reserve. Starting quarterback Sam Darnold missed three games with mono and the Green & White had four quarterbacks play in 2019.
"My initial thought is that this year is a bit of anomaly as far as the amount of injuries that we sustained as an organization, as a team," Douglas said. "We are in the midst of that research; we are doing a deep dive to as far to what we can do to prevent this from happening again and what we need to implement to make sure that this amount of injuries doesn't happen."
No position was hit harder with injuries than the offensive line, a group that used nine different starting combinations and 11 starters in all. Douglas, a former offensive lineman who was a four-year starter at Richmond, has his eyes focused on the men in the trenches.
"Moving forward, the line of scrimmage is always going to be a priority here," he said. "It's definitely going to be something that we're going to look to improve every year."
Douglas has plenty to decisions to make in the coming weeks and months. The team has a long list of veterans with expiring contracts including the like of WR Robby Anderson, LT Kelvin Beachum, OLB Jordan Jenkins and CB Brian Poole. Teams inquired about both star safety Jamal Adams and two-time first team All-Pro Le'Veon Bell prior to October's trade deadline and Douglas has reiterated that he will take any phone call from a team. In Adams' case, Douglas did say he doesn't have a rule against extending players with more than one year left on their contracts. But he's not tipping his hand as the year's most important meeting gets underway.
"We're just starting our process," he said. "We're going to get in with the coaching staff. That's really the start of our entire process as far as talking about each player, each contract and what we're going to do moving forward. So, that's something we're going to discuss at the end of the week."