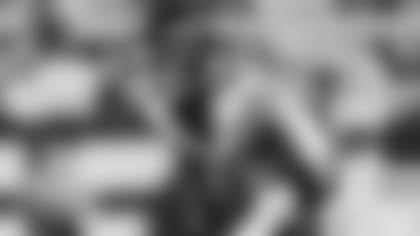 Jets coaches -- defensive coordinator Jeff Ulbrich, wide receivers coach Zach Azzanni, offensive line coach and run game coordinator Keith Carter, pass game coordinator Todd Downing and defensive backs and safeties coach Marquand Manuel -- spoke to the media on Thursday. Here are capsules of some of their comments.
Will McDonald IV Impressive in Practice
Jets rookie DE Will McDonald IV, the No. 15 selection in April's NFL Draft, was inactive in Week 2 against the Cowboys. It will be head coach Robert Saleh's decision if the Iowa State product plays against New England in Week 3, but Ulbrich said he has been encouraged by McDonald's performance in practice this week.
"Just like every rookie and every young player, he needs to learn all the details and the nuances within the defense," Ulbrich said. "He has grown and gotten better. Watching today [Thursday], I was fired up for him. He attacked practice today and he attacked practice yesterday. There are some major improvements we are starting to see in his game. All his freakiness and speed and bend and intangibles, it is starting to come to life as he learns our defense."
Xavier Gipson's Ascension
Wideout Xavier Gipson has had a big impact on the Jets' special teams early in the season after his game-winning punt return touchdown in overtime against the Buffalo Bills in Week 1.
"Buy yourself a Gipson jersey because you root for guys like that," Azzanni said. "He's such a great young man, great kid. Every day he works. He doesn't say a word. He works his tail off."
Heading into Week 3 against New England and into the fall, Azzanni expects Gipson to improve and challenge for more playing time as not only a punt returner, but as a receiver.
"He's just a rookie that is raw to an NFL system," Azzanni said. "So, every week he learns something new, a new nuance. The talent is there, and he's improved. He is very physically talented, but just the FBI, the football intelligence part, he learns every week, new stuff. So once that keeps coming along, you're going to see more and more of him."
Depth and Versatility Along the O-Line
Left tackle Duane Brown did not practice Wednesday or Thursday due to shoulder and hip injuries. If Brown cannot play against New England on Sunday, Carter is confident in tackles Billy Turner and Max Mitchell can step in.
Throughout training camp, Turner and Mitchell alternated first-team reps at left and right tackle before Brown returned to practice on Aug. 23 after having offseason shoulder surgery.
"We have all the confidence in the world that Duane will be ready to go," Carter said. "If for some reason, in any game, that's not the case, we feel like Billy and Max have done a really good job preparing. And then it is next man up."
Fancy Footwork
In Year 3, QB Zach Wilson has improved his game in several ways. Downing said that he has seen the greatest improvement in Wilson's footwork.
"I think he's grown in a lot of areas," Downing said. "I would say that his footwork is something that he's dedicated a lot of time to, and I think that he's done a nice job of trying to stay in rhythm and letting his feet redirect his eyes. I've been proud of him there."
Just the Start for Jordan Whitehead
Jets safety Jordan Whitehead had a career-high 3 interceptions in Week 1 against the Bills. Manuel praised Whitehead for his hard work and expects the defensive back's work ethic to continue throughout the season.
"In order to get anything right you got to put hours," Manuel said. "And you've watched him put in that work, that's why everybody else was happy when it happened. Like Robert said, the opportunities were there last year, now he is going back and understanding the small things in order to put himself in a position to finish plays."