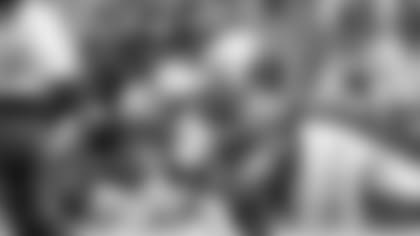 New Jets running back Le'Veon Bell won't see any game action until the regular season starts.
"We will be holding him until the season," head coach Adam Gase told reporters Sunday night following the team's Green & White practice. "I was about 99% sure heading into the season, it was all based off how he practiced, conditioned, those types of things. We talked about it before we started. I told him, 'We wanted to increase the reps last week,' and we're going to do the same thing this week where we just get him as game-ready as possible because he's not really going to know until we get in a real game."
The last time Bell played in a preseason game was for the Steelers back in 2016. The following year, he didn't see game action until the regular season and then he sat out the entire 2018 campaign. But the 6'1", 225-pound star back has repeated throughout the summer that he will be fine with whatever workload the Jets give him.
"I want to do whatever Coach Gase wants me to do," he said after a practice last week. "If he asks me to play, I'm going to go out there and play. If he tells me not to, tells me to rest, I'm going to do that. ... I'm going to do whatever's best for my team."
The Jets have continued to increase Bell's workload on the practice field throughout camp. Sunday's touches during practice will be the last for Bell at MetLife Stadium until the Jets host the Bills in the regular-season opener on Sep. 8.
"I feel like he's in great shape, he's been contacting about as good as anybody on the practice field. I feel confident that he'll be ready to go week one," Gase said. "He's in a good place right now. The way he's working in practice, the way he's running the ball in practice, I feel really good about him when we hit the regular season."