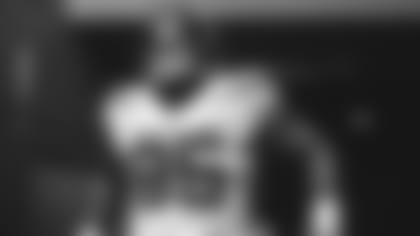 The Jets have activated DL Quinnen Williams, RB Tevin Coleman and TE Tyler Kroft from the reserve/COVID-19 list. The team also signed DL Jabari Zuniga to the active roster and restored OL Isaiah Williams to the practice squad.
Williams (6-3, 303) missed the last two games on the reserve/COVID-19 list. The 2021 Marty Lyons/community service and Kyle Clifton "Good Guy" award winner, he's tied for the team lead with 6.0 sacks to go along with 50 tackles, 7 tackles for loss, 12 QB hits and 2 pass defenses. The 2019 third overall pick out of Alabama, has played in 40 games (36 starts) and has 80 tackles, 21 TFLs, 15.5 sacks, 32 QB hits, 6 PDs and 2 forced fumbles.
Coleman (6-1, 210) has played in 10 games this season (4 starts) and has 350 rushing yards on 79 carries (4.4 avg). He missed last week's game against the Buccaneers on the reserve/Covid list. The former third-round pick out of Indiana has 3,287 rushing yards and 24 touchdowns in 88 games (36 starts).
Kroft (6-6, 252) has played in 8 games in his first season with the Green & White and has 15 receptions, 168 yards and 1 touchdown. He has 100 career receptions for 1,019 yards and 13 touchdowns in 80 games (47 starts).
Zuniga (6-3, 264) was elevated for Week 8, Week 9 and Week 15 against the Bengals, Colts and Texans. He's taken 53 snaps on defense and had 3 tackles and a strip-sack. Zuniga was a final cut and re-added to the practice squad Sept. 2. Drafted by the Jets in the third round in 2020 out of Florida, he played in 8 games his rookie season and had 5 tackles. Zuniga, who was slowed in training camp with a knee injury, appeared in 42 games (27 starts) for the Gators and totaled 118 tackles, 34.5 TFLs and 18.5 sacks.
Williams (6-3, 295) first joined the Jets Aug. 21 and has been on and off the team's practice squad and active roster, appearing in four games this season. The Akron product signed as an undrafted free agent with Washington in 2016 and has had stints with five other NFL teams -- Chiefs (2017), Colts (2017), Raiders (2018), Saints (2018) and Ravens (2019).