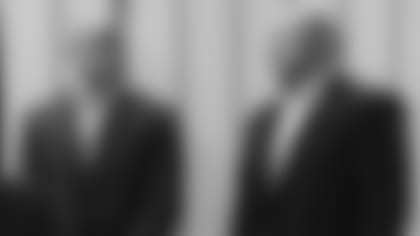 Jets general manager Joe Douglas remarked that the third day of any NFL draft is "scouts' day," because the only people who really know the players that will be drafted from Round 4 to 7 will be Mel Kiper, of course, and every team's scouting department.
Considering the way Joe D and Robert Saleh talked about the Jets' draft early Saturday evening after the Jets were done for 2023, it sounded like a "scouts' long weekend."
"At the end of the day, we're excited, really excited to add these guys," said Douglas, an old OL and DL specialist himself, about the Jets' three ... make that four ... now it's five ... picks on Saturday and their seven selections for the annual talentfest. "The scouts know these players like the back of their hand, and that comes in handy on a day like today. Teamwork is involved throughout the entire process and that led to a really good day."
Here's a guess that this year's Jets draft won't be as lauded as last year's, which brought NFL Defensive Rookie of the Year Sauce Gardner, NFL Offensive ROY Garrett Wilson and dynamic running back (for seven games) Breece Hall to the Jets and A and A-plus grades to Douglas' draft team.
But the same qualities and quantities that he and the Jets were looking for last year were here again. Versatility was a word that came up again and again — Douglas said the V-word at least three times and head coach Robert Saleh at least five times in their postdraft newser, and many of the draftees were of like minds.
Sixth-rounder Jarrick Bernard-Converse experienced the versatility of two big-time programs — Oklahoma State and LSU — and about three positions in those secondaries. "I think it helped me understand defense better and how to play the game," "JBC" said of his work at both safety and corner. "It expanded my mind and challenged me to learn more than one position."
Fellow sixth-rounder Zaire Barnes, the LB from Western Michigan, made the Douglas/Saleh/Jeff Ulbrich transition from box safety to light linebacker to help cover the NFL's pass-happy receivers. "I feel like that helped me with the mental side of things," he said. "It showed teams that coaches put trust in me to do the job and to do more than one job."
And Saturday's first two picks, the Pitt duo of T Carter Warren and RB Izzy Abanikanda seemed to bring the versatility in stereo. Douglas said among Warren's talents, "he's a smart, versatile guy that's key to our unit." Saleh, meanwhile, praised Israel "Izzy" Abanikanda, who had that record-breaking day of 320 rush yards and six TDs vs. Virginia Tech, saying of the Jets' RBs room now, "there's a lot of versatility, a lot of juice in that room."
Teamwork was also a hot commodity. "I learned a lot of things at Iowa State, gained a lot of poise," first-round edge Will McDonald IV said. "I was around good teammates, doing what I could do." Second-round C Joe Tippmann: "The first thing I need is the trust of my teammates before anything else." Barnes again: "That's what I really love. Football is a team sport."
Another element of the Douglas/Saleh wrapup at the end of day three was back in the scouting department's realm, when Douglas talked about something that a lot of football fans probably thought wasn't in abundant supply in the last two rounds of a draft: "the freak factor."
"We picked a couple of freaks at the end of the draft," Joe D said. "JBC has played a lot of football and his talent speaks for itself. Then [Old Dominion TE] Zack Kuntz is another size/speed freak. ... He tested through the roof. We were sitting there at the top of the seventh round going through guys that had that freak factor, and to me, he was right at the top."
Needless to say, there is nothing that says the Jets' 2023 draft class will come close to matching the '22 class's eye-popping success. All GMs, coaches love their freshly minted selections' skills, their length and agility and balance. All players say they're ready to excel on special teams if that's their role (McDonald said that early Thursday night and Barnes seconded that emotion later Sunday.
But have the Jets done enough to add to the strong front lines and supporting casts around Aaron Rodgers and complete the transition from the team they inherited when they arrived and turn it into the competitive outfit and winning culture that can get it into the NFL's January dance? That will all come out in the wash, and in the heat and sweat of spring into summer into the regular season. But Douglas as a top scout and Saleh as a rising head coach have shown they can get this team trending in the right direction.
"It's been a fun week," Saleh said, including Rodgers' arrival in that equation initially. "But for this draft, to get what we felt was one of the better pass rushers, add to the O-line, get the back from Pitt with so much juice and breakaway speed, Joe turning three picks into [five] and adding versatility and smarty guys that fit in our building as far as character and mindset .... We got better this week."