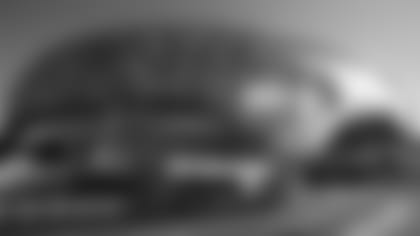 Every Jets opponent in the 17-game 2021 season ahead carries with it potential storylines plus loads of Green & White rivalry trivia. Here are some notes on the Jets schedule just released by the NFL tonight:
Game 1—Jets @ Panthers, Bank of America Stadium, Sunday, Sept. 12, 1 p.m., CBS
Familiar QB Face: Following the April trade, the Jets are set to face Sam Darnold in his new home stadium when they visit the Panthers right off the bat in the season opener. The Jets' only win at Carolina was the 13-12 "Shrek Game" in 2001, and the Green & White will gladly take another win, ugly or pretty, over their former starting QB from 2018-20.
Game 2—Jets vs. Patriots, MetLife Stadium, Sunday, Sept. 19, 1 p.m., CBS
Lucky 13th: The Jets had already played 12 home openers against the Patriots, the most against any NFL opponent, and this year is No. 13. The most recent HO vs. NE came in 2009, when then-rookie Mark Sanchez and the Jets trimmed Tom Brady and the Patriots 16-9 at the old Meadowlands stadium.
Game 3—Jets @ Broncos, Empower Field at Mile High, Sunday, Sept. 26, 4:05 p.m., CBS
Mile High Takeaways: In 1999 the Jets defense intercepted Brian Griese and Bubby Brister 5 times and turned their plus-4 TO margin into a 21-13 Mile High win. Since then, the Jets have lost 3 of 4 in Denver with a minus-8 TO margin. Quinnen Williams, Marcus Maye and the D seek to reverse that turnover trend vs. the Broncos
Game 4—Jets vs. Titans, MetLife Stadium, Sunday, Oct. 3, 1 p.m., CBS
Corey's New Frenemies: Jets WR Corey Davis plays for the first time against the Titans, his team of the previous 4 NFL seasons. Last year Davis set career highs in catches/game (4.6), total receiving yards (984), yards/catch (15.1) and receiving TDs (5) and caught 70.7% of passes targeted for him, also a personal best.
Game 5—Jets @ Falcons, Tottenham Hotspur Stadium, London, Oct. 10, 9:30 a.m. ET, NFL Network
Rookies vs. Ryan: Geno Smith was the rookie QB the last time the Jets visited the Falcons in 2013. Atlanta's veteran signal-caller, then as now, was Matt Ryan. And the Jets prevailed on Nick Folk's walkoff FG. This time the Jets may present a new rookie QB in Zach Wilson to take on Matty Ice in their first trip in six years to London and first ever to the home of the Spurs.
Week 6—Bye Week, Oct. 17
Bye Bits: This is the Jets' third-earliest bye since 2008 (Week 4 in 2019, Week 5 in 2015). Last time the Jets sandwiched two wins around their bye was in '15: 27-14 over Miami in London, then 34-20 vs. Washington at home.
Week 7, Game 6—Jets @ Patriots, Gillette Stadium, Sunday, Oct. 24, 1 p.m. CBS
It's Been a While: The last Patriots starting QB not named Brady that the Jets defeated at Gillette Stadium? Matt Cassel, who lost to Brett Favre, Jay Feely and the Jets 34-31 in OT on TNF in 2008. The Green & White tried to add Cam Newton to that list in last year's loss and may try again this year, although the Pats drafted Mac Jones in Round 1 in April.
Week 8, Game 7—Jets vs. Bengals, MetLife Stadium, Sunday, Oct. 31, 1 p.m., CBS
Bengal Tamers: In their 10 Meadowlands meetings since 1984, the Jets have outscored the Bengals 261-154. That's because the Jets won the first 9 of those 10 over the Stripes, before the Bengals prevailed in their last MetLife meeting, by a point on 2016 opening day. QB matchup could be Zach Wilson vs. 2nd-year signal-caller Joe Burrow.
Week 9, Game 8—Jets @ Colts, Lucas Oil Stadium, Thursday, Nov. 4, 8:20 p.m., FOX/NFL Network/Amazon
Colts QB Go-Round: The Jets, in their 4th visit to Lucas Oil since 2010, will go up against their 4th different veteran QB for the Colts. They beat Peyton Manning in the '10 playoffs and Andrew Luck in '15, then last year lost to Philip Rivers. How will the Jets respond this year on TNF, with Carson Wentz set to start for the Horseshoes?
Week 10, Game 9—Jets vs. Bills, MetLife Stadium, Sunday, Nov. 14, 1 p.m., CBS
Jets vs. Josh: In Josh Allen's last 42 games as Bills QB, he's enjoyed 40 games with at least 1 TD drive and 109 TDs in all. The 2 games with no TDs both came vs. the Jets. He played 2 series before exiting the 2019 RS finale, then last year at MetLife led 6 FG drives to eke out the 18-10 win. Does the Jets D know something about Allen? Hmmm ...
Week 11, Game 10—Jets vs. Dolphins, MetLife Stadium, Sunday, Nov. 21, 1 p.m., CBS
Backyard Roller-Coaster: The Jets won 9 of 10 home games vs. Miami from 1998-2007, then the 'Fins took 6 of the next 7. In the last 6, the Jets have won 3 times but only in the odd years, so it's their turn in '21 — and perhaps time to return to home dominance of the Dolphins under new HC Robert Saleh?
Week 12, Game 11—Jets @ Texans, NRG Stadium, Sunday, Nov. 28, 1 p.m., CBS
Two Out of Three Ain't Bad: The Jets are 20-17 vs. the AFC South. That includes 5-3 against Houston all-time and 2-1 in the Texans' house, with Vinny Testaverde for the comeback win in 2003 and rookie Mark Sanchez for the opening-day W in 2009. The .667 road winning percentage is the Jets' best against any NFL opponent.
Week 13, Game 12—Jets vs. Eagles, MetLife Stadium, Sunday, Dec. 5, 1 p.m., CBS
Tough Birds: The Jets' all-time home preseason record vs. Philly is 12-5 and they've won 10 of the last 11 in the Meadowlands. But in the regular season, the Jets are 0-5 at home. With the 17th RS game this year, it's time to turn the tables on the Eagles and projected fulltime QB starter Jalen Hurts, backed up by last year's Jets backup, Joe Flacco.
Week 14, Game 13—Jets vs. Saints, MetLife Stadium, Sunday, Dec. 12, 1 p.m., FOX
Post-Brees Saints: The only previous time New Orleans came to MetLife to play the Jets, the Jets prevailed over Drew Brees and the Saints 26-20 in 2013. A win by the Green & White over the now Brees-less Saints following Drew's retirement would even the overall series record at 7-7 and the series mark at the Jets' home at 4-4.
Week 15, Game 14—Jets @ Dolphins, Hard Rock Stadium, Saturday or Sunday, Dec. 18 or 19, TBD, TBD
Home Away from Home: Since this venue opened as Joe Robbie Stadium in 1987, the Jets are 16-17 vs. the 'Fins there. And the teams in those 33 games have scored exactly the same number of points, 731 each. But the Jets are 0-5 at Hard Rock since 2016. They try to reverse that trend against an always New York-friendly crowd in South Florida.
Week 16, Game 15—Jets vs. Jaguars, MetLife Stadium, Sunday, Dec. 26, 1 p.m., CBS
Rare Pairing: Zach Wilson and Trevor Lawrence could make it 4 times since 1967 that QBs selected with the first two picks of an NFL draft then battled as rookies later that year. In '93, Seattle's Rick Mirer (2) edged New England's Drew Bledsoe (1). In '98, Indianapolis' Peyton Manning (1) prevailed over San Diego's Ryan Leaf (2). In '15, Tennessee's Marcus Mariota (2) toppled Tampa Bay's Jameis Winston (1).
Week 17, Game 16—Jets vs. Buccaneers, MetLife Stadium, Sunday, Jan. 2, 1 p.m., FOX
Brady Bucs: The Buccaneers sail into North Jersey as the defending Super Bowl champs with Tom Brady again at the offensive controls. On the other hand, the Jets are 7-0 vs. the Bucs at home, the only NFL franchise they've never lost to at home in the regular season, and 10-2 overall, an .833 winning percentage that's their best against any opponent.
Week 18, Game 17—Jets @ Bills, Highmark Stadium, Sunday, Jan. 9, 1 p.m., CBS
And Away We Go: The Jets have more road wins over the Bills, 26, than over any other NFL foe. Not a surprise since the teams have met 60 times in Buffalo since 1960. But they've never before met at Highmark Stadium —new name of the Bills' same old home, formerly named Rich, Ralph Wilson and Bills Stadium plus New Era Field.