The first 10 games may well tell the tale of the Jets' 2014 season.
Head coach Rex Ryan got a look at his team's schedule before the NFL released all the regular-season schedules tonight, and one thing jumped out at him immediately: three of the first four games will be played at MetLife Stadium.
"I just know the energy and the passion our fans are going to have to open the season," Ryan told Eric Allen on tonight's Jets Talk Live Schedule Special. "Three out of four — I think that's the highlight. I just think our players feed off of that enthusiasm from our fans. Our guys, they know how important it is, they appreciate our fans. So we put everything we have into it."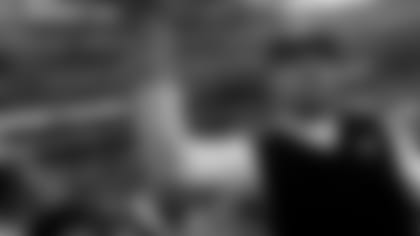 The season opens at home on Sunday, Sept. 7, at 1 p.m. Not unusual. With that game, we will extend our franchise record to five consecutive seasons playing our season opener at home. What is unusual is the opponent: the Oakland Raiders. For the first time ever, the Green & White will play its home opener against the Silver & Black.
Then come three games against the NFC North — the first time the Jets will play three consecutive games against NFC opponents since 2001. Game 2 comes against the Packers in the pre-frozen tundra at Lambeau Field. Then come the Bears on Monday night, Sept. 22, and the Lions the following Sunday, both at MetLife.
Then what follows could be our season-making sixpack of games. That Black-and-Blue September will be followed by a brutal six weeks heading into the Week 11 bye: road games at San Diego, New England (Thursday night at Gillette Stadium on Oct. 16) and Kansas City alternating with home games against the AFC Super Bowl representative Broncos, the Bills and the Steelers.
That's four playoff teams from last year with, on paper, a backbreaking combined schedule strength of 59-37 (.615 winning percentage). It's reminiscent of last year's five-game stretch that included games against Atlanta's Matt Ryan, Pittsburgh's Ben Roethlisberger, New England's Tom Brady, Cincinnati's Andy Dalton and New Orleans' Drew Brees. We came out of the stretch 3-2 to come up to last year's bye with a 5-4 mark.
And yes, you probably caught that right: Oct. 12 at home against the AFC champion Broncos and Peyton Manning, then four nights later at the AFC runnerup Patriots and Brady.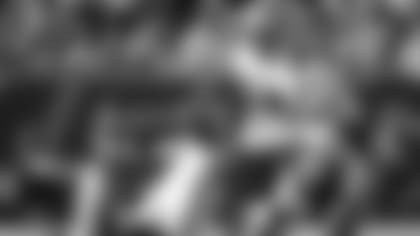 "That's interesting how that thing works out," Rex Ryan said with a chuckle. "But you know, hey, we've been there and done it before, albeit not on a short week. But again, we'll be ready. That is a tough stretch. You're facing both teams that represented the AFC in that championship game. It's not going to be easy, certainly."
Any team's NFL schedule is never truly easy. But similar to the past two seasons, if the Jets can survive the first 10 games, there is the prospect of finishing strong against a less imposing array of opponents. From Nov. 23 through Dec. 28 the Jets play at Buffalo, Miami at home on Monday night, Dec. 1, at Minnesota and Tennessee, home for the Patriots and — for the third time in four years — the regular-season finale at Miami.
That was a very good closer for the Green & White last year as they finished at 8-8 on a high note with the 20-7 win that bounced the Dolphins out of the playoff picture.
This year's final six games feature just one playoff team (the Patriots) and an opponents' schedule strength of 46-49-1 (.484).
However, balancing these thoughts of a strong closing kick is the fact that four of our last six games will be on the road.
One more note on the schedule here is that the Jets will play three primetime games — the Monday home games vs. Chicago and Miami and the Thursday-nighter at New England — one more than last year's total.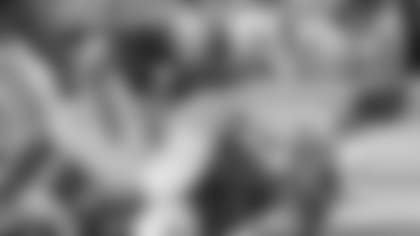 And there is at least the prospect of another primetime game earlier in the schedule than usual. The NFL will extend its "flex scheduling" concept into Weeks 5-10, with the new potential to change only two of those six Sunday night games in that span. The original flex rules of the past eight years will still apply for Weeks 11-17.
Also this year the league is introducing the concept of "cross-flexing," in which a select number of games can move between CBS and FOX to bring potentially under-distributed games to wider audiences.
"It kind of feels like a new season kicks off when you start those voluntary workouts," Ryan said of the players' return to the Atlantic Health Jets Training Center on Monday. "But then when you get the schedule, it's right in front of you and it's like, 'Oh, yeah, here we go.' That's really when the blood starts going a lit bit. Hey, it's time."
Travel Packages for the Season Ahead
PrimeSport, Official Fan Travel Partner of the New York Jets,  is offering Official Jets Travel Packages for the ultimate loyal fan looking to take their team spirit on the road. Official fan travel packages for 2014 can include game tickets, hotel accommodations, official souvenirs and much more. Fans looking to buy an official Jets travel package for one of the designated games should go to PrimeSport.com.