After he puts on his pads and uniform Thursday evening, Jets rookie OLB Jordan Jenkins will take a short walk from the home locker room to the MetLife Stadium field for the time as a professional.
"I can't even find the right words, it's going to be one hell of a feeling," he told me this week. "I feel like it's going to be an out of this world type thing coming out of that tunnel at MetLife Stadium. It's crazy, I've always talked about it since elementary school, middle school and high school, saying that I wanted to be a professional football player. Now my time is here and I need to show people that I'm ready to compete and fight for my life."
The Jets open their preseason schedule Thursday vs. the Jacksonville Jaguars. After facing Jets' offensive linemen for two weeks, Jenkins will get a shot in live action against a new opponent.
"He's really good. He's really strong with his hands," said defensive coordinator Kacy Rodgers. "He's pretty versatile. He shows up to set the edge in the run game. He's shown the ability to win one-on-one in the rush."
Jenkins, a third-round pick from Georgia, is atop the team's depth chart at the Sam 'backer spot across from Lorenzo Mauldin. Head coach Todd Bowles has stressed competition on the outside and he wants both Jenkins and Mauldin to continue to gain knowledge of the game with experience being the best teacher.
"I'm doing some things well — I'm doing some others things not so well. I just have to find a balance where I can make sure the things that I'm doing well outweigh the things that aren't going well," Jenkins said. "I have to stay focused and keep my eyes where they're supposed to be and just be ready mentally for each practice and each down."
The 6'3", 259-pound Jenkins, who totaled 205 tackles, 19 sacks and 40 tackles for loss at Georgia, is wise beyond his years. Named UGA's Most Improved Player in 2014 and the Bulldogs Defensive MVP in 2015, Jenkins knows discipline is required early in his career.
"Eye control is what really holds a lot of rookies back and a lot of outside 'backers. If we don't have good eye control, we're going to miss our keys when we're supposed to set the edge," he said. "Or we might read the wrong key and get out of leverage and lose the position battle and somebody might get outside of you, somebody might get inside of you, or you might get burnt down the sideline on a wheel route. You just have to make sure you are staying on top of things."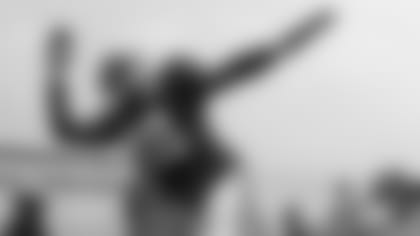 While Jenkins is part of an OLB group competing for playing time that includes Mike Catapano, Freddie Bishop and Trevor Reilly, the rookie says everyone is trying to assist each other.
"I didn't think it would be as welcoming as it has been. If one of us messes up on a play or something, the others will come coach the one up," he said. "Just sitting watching film on the 1-on-1s in pass rush, everybody is trying to help each other out. We just want to be as best as we can be, whether you're playing or you're not. We just want to be a great unit."
Jenkins will play against the Jaguars, attempting to set the edge, push the pocket and perhaps drop a time or two in coverage. It might be just the preseason, but the Hamilton, GA native is about to appear in an NFL game and that's a big deal.
"This is crazy. I was just thinking, 'Man is this really about to be my first professional game?' It still feels surreal and it still doesn't feel like I'm a pro," he said. "It still feels like I'm just a college kid from Georgia at maybe a little camp or a Senior Bowl type thing."