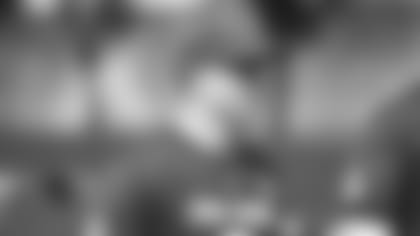 It might've looked as if Jason Myers, rather than working hard, was hardly working at the AFC's Pro Bowl practices the first two days in Orlando.
Myers, who came in midway through August and kicked lights out for the Jets all season, admitted life is pretty easy so far as an NFL all-star.
"I hit a couple today, maybe I'll hit a couple tomorrow," he told Eric Allen of newyorkjets.com. "But I'm just enjoying this. You're seeing some of the best talent in the world out here on the field messing around and having fun. I'm just taking everything in and enjoying it."
That includes watching his Jets and Pro Bowl teammates, safety Jamal Adams and kick returner Andre Roberts, doing their thing at the ESPN Wide World of Sports complex at the Walt Disney World Resort. All three Jets are first-time Pro Bowlers.
"Jamal was a little bit quiet at the first team meeting, but his personality comes out right away," Myers said. "He's a great guy and a great leader for our team and you can't miss him when you're out on the field. Dre's out there, too, just waiting to return kicks and just enjoying it, too. It's awesome to be able to share this with those guys."
Myers isn't leaving things to chance, though. Just as he would before a regular-season game, he checked the weather forecast for Sunday afternoon at Camping World Stadium.
"Yeah, I've looked at it," he said. "There's a little bit of rain in the forecast maybe, so we'll see. There's great weather right now, not too hot, a little breeze out here.
"Either way, we're just going to enjoy it."
Myers has the rest of his week mapped out. After practices this week, there's golf. Then for the weekend, he's expecting lots of family to join him at Disney World.
And Sunday, there will the pressure of performing one more time, this time in the red AFC jersey with all the stars on it. Myers will have a long way to go to match Jim Turner's performance in the AFL All-Star Game in early 1969, not too far away at Jacksonville's Gator Bowl one week after the Jets' historic Super Bowl III victory in Miami.
Turner, who hit three field goals in the Super Bowl, had six more in the All-Star Game — from 27, 16, 19, 13, 18 and 21 yards. It wasn't enough to prevent the East's 38-25 fall-from-ahead loss to the West.
Is Myers up to a six-FG game? Yeah, probably. He hit a Jets-record 7-for-7 in the Game 6 win over Indianapolis, set the NFL mark for most 55-yards-plus field goals in one season with five, and tied the Jets' season mark with 91.7% FG accuracy. We suspect he'll be ready to go.
Myers added that he welcomed the word this week that Brant Boyer has been retained as special teams coordinator on new head coach Adam Gase's coaching staff.
"Brant's a great guy. I've said all year that I enjoyed working with him," Myers said. "He trusted us to get ready to play on Sunday, but he was also there if we needed help with stuff. So I think he's a great addition to keep for the team going forward."