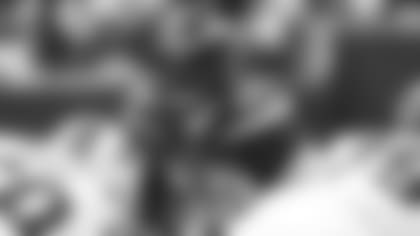 It's been a tough road for Jets linebacker Jarrad Davis, driving from the Motor City to the Big Apple in a New York minute. He's had to fight through the ankle sprain that sidelined him in late August for the first six games of the season, then deal with the Jets' 2-7 start in constructive terms, not just for himself but for his new teammates.
The record is the record, but Davis said he's getting his wheels back under him to attack the final eight games of the Jets' first season under first-year head coach Robert Saleh.
"Getting back in the thick of it, it's been challenging," Davis told Bart Scott and Dan Graca on this week's edition of Inside the Jets. "As the weeks have gone on, I feel like I've gotten better, gotten progressively comfortable with being out there again. Now it's just a matter of continuing to take the steps I need to get back to being who I really am out there and help the team out as much as I can."
Davis, who got in only 29 defensive snaps in his and the Jets' new defensive scheme in the preseason, has put in 124 D-snaps in his three games back in the lineup. He's had only seven tackles in those games, but when he's truly back to form, he'll be the active (305 tackles in four Detroit seasons), hard-hitting (seven forced fumbles) and occasionally QB-rattling (10.5 sacks, 23 QB hits) 'backer that he was at his Lions best.
But playing this game is much more than a headlong charge for personal glory and statistics. Davis is very much a team-oriented guy, and that came through in his give-and-take with former Jets and Ravens LB Scott on what Saleh might refer to as Football Psychology 501, trying to cope with a rough start to a season to finish strong and build a winning culture in the process.
"It's very, very tough because it's like a battle within yourself to make sure that you know, hey, we're not winning, but what can I do to make sure that I feel like we're winning?" he said. "It's about getting guys to understand that you're not going to come out in the NFL and just knock the ball out of the park, you're just not going to kill guys. You've got to chop and chop and chop. The more energy you put on doubting yourself, into that negative self talk, about yourself, the scheme, the team, the coaches, the more energy is being taken away from being successful."
Davis bares his soul in these kinds of conversations because he said he took the losses very hard as his Lions teams went from 9-7 to 6-10 to 3-12-1 to 5-11.
"We didn't win a lot of games in Detroit," he reflected. "I kind of lost sight that these are just losses, these are just wins, and because of how I carried myself based on what happened on gameday, it kind of took me to a bad place. I did a little work on myself during last season, at the end of last season, and for a long time right up until free agency, I didn't think I was going to play football this year. The big question I had was why would anybody see value in me as a football player because I didn't really see that value in myself as a person."
But GM Joe Douglas, Saleh and the Jets' new staff saw Davis' both on and off the field.
"They were seeing something in me that I could bring to the table," he said. "Them just seeing that light in me, it really attracted me to this organization."
And now Davis is trying to bring his veteran savvy to the players around him on the Jets defense to help everyone realize their potential in this second half of the season, starting Sunday at home against Miami and, even including the finish vs. a pair of 6-3 teams in Tampa Bay and Buffalo, presents a stretch of opponents with a combined .400 strength of schedule.
"It's just a matter of clearly defining and deciding what you're going to do and then going to get it by any means necessary," he said. "I want to win — you never have to question that. But a win or a loss is not going to decide what I do on Monday, Tuesday, Wednesday, Thursday, Friday, Saturday or Sunday when I step back out on the field. That's not going to change the effort, the passion, the drive, the consideration, the connection I'm trying to make with my team.
"I think once we get to that place consistently, across the board, through the challenging times, not just when it's easy, things will really start to turn around for our team."