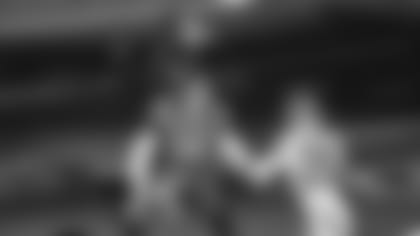 Everyone who's watched Jamison Crowder in action while wearing green and white the past two seasons no doubt suspected he was probably a five-tool wide receiver — two sure hands, two fleet feet and an accurate right arm.
But with his specialty primarily as a pass-catcher and YAC-maneuverer, the passing and rushing elements of his game were less noticed.
Until Sunday at MetLife Stadium, when Crowder put together the kind of game that no other Jets player had assembled in franchise history, and a precious few have managed to put together in NFL history.
Until today at MetLife Stadium, when Crowder put together the kind of game that no other Jets player had assembled in franchise history and a precious handful of other managed to put together in NFL history.
"Yeah, this week they tried to involve me a little more in the offense," Crowder said, a big smile unable to be hidden beneath his COVID mask as he talked with newyorkjets.com after the Jets' 23-16 victory over the Browns. "So I just went out there to take advantage of the plays and opportunities I was given.
"Things worked out well. I was able to connect on a pass with [Braxton] Berrios, and Sam [Darnold] was able to hit me on a strike down the sideline. So it was a good game for me."
■ Crowder chalked up 92 yards on seven receptions, including a wide-open 30-yard hookup for the Jets' third and final touchdown, from Darnold early in the third quarter;
■ He had 43 more yards on his drop-in-the-basket pass to Braxton Berrios off an end-around thrown down the right sideline for the Jets' first TD;
■ Finally, J.C. added 14 more yards on an end-around to the Browns 16 to set up the hosts' second TD, another open target from Darnold to TE Chris Herndon.
With at least 90 receiving yards, at least 40 passing yards and at least 10 rushing yards, he became the first Jet to clear all three hurdles in the same game and only the fourth NFL player to do it since 1948, according to 360.sportradar.com. The most recent player to do it was New England's David Patten, at Indianapolis in 2001. The other two achieved it in the 1958 season — Tom Tracy three times for the Steelers, Billy Ray Barnes once for the Eagles.
The strike to Berrios was the one reporters wanted to chat about with the wideout, the QB and head coach Adam Gase after the Jets had salted away their second win over a team vying for the NFL playoff grids in the last two weeks.
"We ran it last year, we ran it a couple of years ago," Gase said of the play. "Berrios did a really great job of lulling the guy to sleep to where he got by him, and Jamison threw a great ball. Anytime you hit on one of those plays and you score on it, you don't always score on it that clean. That was probably as clean as it's been when we've been running it."
"I told him the next series he might think about going back there and playing some snaps at 'Q,' " Darnold said. "What a dime, though. ... He threw it perfectly. It was awesome to see."
"It was a play we worked on all week in practice," Crowder said. "In practice, I didn't throw it as good but we still connected on it in practice, But I came out here today and it was better. I threw it right where it needed to be, Berrios was able to make a play. And yeah, man, I'm just glad we got the win."
The entire Jets offense didn't sustain its drive through all four quarters. After the Herndon, Berrios and Crowder scoring grabs, the home team settled in and let the visitors close to 20-10 and then 20-16. In their last six series, the Green & White had one Sam Ficken FG try blocked (by former Jets DL Sheldon Richardson), then added Ficken's 34-yarder with 2:52 to play to go up 23-17, then waited for the defense to throw up a fourth-and-1 wall at their 16 on which the Browns in effect turned the ball over because Mayfield fumbled on the keeper.
And for the second game in eight days, Darnold, Crowder and the offense got to kneel three times and run out the clock for their second win.
"I'm super proud of our guys," Darnold said. "We had a huge win in LA, and then we came in to work on Monday, Wednesday and the whole week we put in a real good week of work, and we're super-excited about the win. But we've got another tough challenge in New England and we're excited for it."
"That's the goal, man," Crowder said. "We're just trying to finish the season off strong, man. It's been a rough year. We're just trying to finish it off strong right now. That's all."