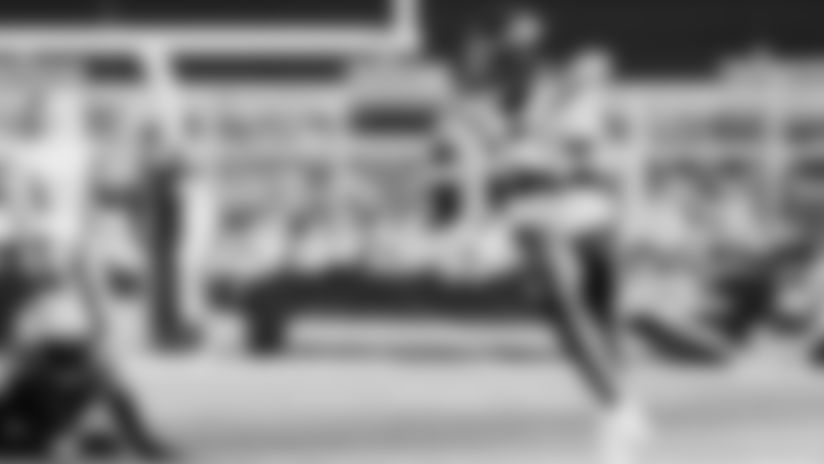 Jamal Adams didn't mince words following the Jets' 30-14 loss to the Patriots Sunday.
"It's a new season when we get back," he said of the bye week. "We're 0-3. So what, now what? We'll be all right."
Following the Green & White's performance in which the defense allowed a season-high 381 yards and four touchdowns, Adams, one of six team captains, had a message for his teammates heading into the break.
"Just reflect on yourself, what you can do to help this team get better, what you can contribute, myself included. I'm going to do the same," he said. "I just challenged everybody in the locker room to do that because it's very important. I think our bye week hit home at the right time and this is God's calling.
"We're one of [the teams], if not the team in the NFL that hit the most adversity already, so now it's going to show us what we're made of. It's going to show what kind of character we have as men, as a team and as a staff, so when we get back, we'll be ready to go."
The defense was slow out of the gates against Tom Brady and the Patriots, allowing three touchdowns in as many drives. After yielding 217 total yards in the first half, the defense tightened its screws, yielding 164 yards in the final two frames. The Patriots converted just 25% on third down (3-for-8) compared to 57% (4-for-7) in the first half while Brady threw for 107 yards after passing for 199 in the first two quarters.
"It was just little things. We just have to be tuned into the little things," Adams said. "It's not a big communication thing. We just have to be on the same page when we're communicating as a defense. Certain plays, they happen. Obviously they have great players over there. We just have to be better as a whole."
Despite a frustrating loss, Adams was responsible for one of the few bright spots and one of two scoring plays for the Jets. The third-year safety registered his second-career interception when he picked off Jarrett Stidham, who relieved Brady for one drive in the fourth quarter, and ran it back 61 yards for the score to cut the lead to 30-14.
"I don't really care about it, honestly," he said. "It's an achievement for me, but I just want to win, man. That's what I'm about. It was a great play, I'm happy to put points on the board, but we have to be better."
Without Demaryius Thomas (knee/hamstring) and Sam Darnold (mono) in addition to backup QB Trevor Siemian (ankle) and WR Quincy Enunwa (neck) on injured reserve, Adams refused to place any blame on the offense, saying, "We gave up 30 points, so I don't talk about the offense. The offense is going to be fine."
Heading into what, at first glance, seemed to be almost too early of a bye, Adams and the defense are ready to regroup before entering their "second season."
"To win, I mean it's simple, man," said Adams of the team's goals. "It's nothing else to it. We have to get on the same page as far as offense, defense and special teams. We have to play four quarters of consistent football and as long as we do that, which we're going to stick together and we're going to get better when we get back, we'll be fine."