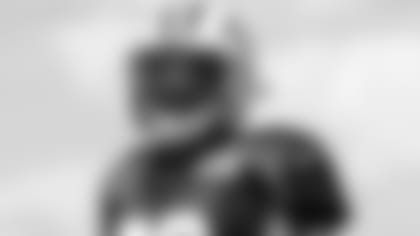 Jets safety Jamal Adams calls himself "a hungry guy ... a very passionate guy ... I do things a little bit different." His passion is contagious on the field, his personality is engaging off the field.
And sometimes Adams says things that take on a life of their own and he is asked to comment on his comments a day or two later.
Such was the case after today's practice at the Atlantic Health Jets Training Center when reporters asked Jamal about remarks he made this past May to Bleacher Reports for a Q&A that was published today. In the story Adams said that last season, "You can always tell the vibe. I came in and it was like everybody wanted to do the bare minimum."
"I'm very passionate," Adams said today. "Coming in, I was wide-eyed and I just wanted to come in and work hard and make an impact. ... To be honest with you, man, none of the comments that were said shouldn't matter because we've moved on as a team. It's never going to be about me, it's about this team. We built this culture and last year to this year I see a big improvement just as a team, and we're going to keep building it each and every day."
Asked if head coach Todd Bowles was upset with his remarks, Adams said jokingly, "Yeah, he told me to go home." But seriously, "He said just be smart, just continue to be passionate and work hard."
Bowles said much the same thing when he was asked about the Q&A today.
"Me and Jamal have talked about that. Jamal is a very young player and he is a very smart player and he speakers from his heart," the coach said. "He didn't mean a lot of things that came out wrong, but when you give everything and you demand people to be like you, everyone is not like you. Some people learn differently and some don't. But we talked about it and it is just part of being a young player. He will learn over time things to say and what he really means to say and what not to say. We dealt with it and we moved on."
And Leonard Williams, at 24 still a fairly young player himself although now a fourth-year veteran, had similar thoughts and counsel for his 22-year-old defensive mate in the deep middle.
"It was a little bold, I guess, to say that," Williams said, "but at the same time, that's what he is, he's passionate, he's enthusiastic, he brings that energy to the field. If I was to try to hold him back on something, that's holding him back as a person and a player and I wouldn't want to do that. I'm not going to say he can't speak his mind or even not say how he feels, but at the same time just word it wisely and know who you're talking to.
"He's a young guy and he will learn that. I think this will definitely be a big learning moment for him."
The key for Adams, Williams and the Jets' young but aspiring defense is to move it forward and bring out the fiery best in everyone. Jamal senses an energy on the defense that bodes well for this season.
"Everybody's jelling together, everybody's coming out here working hard, everybody's staying in the playbook. Each and every day we step on the field, we want to get better, we want to win the day," he said. "That's what we're shooting for and as long as we continue to stick together, 'one team one goal,' we'll be fine."