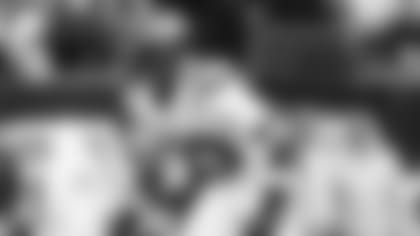 Jamal Adams spoke with reporters on Wednesday afternoon and with his raspy voice it sounded as if he might have a touch of the flu that's hit the Jets' and other NFL teams' locker rooms, to go along with his aching ankle.
But Adams assured that his voice was only hoarse from his sideline vocalizations during the Jets' 22-21 win over the Dolphins on Sunday.
"It was tough," Adams said of his first missed game in three Jets seasons, "but I'm happy that my brothers went out there and they competed hard and came out victorious."
But that was all that Adams was going to assure on this day. Topic one was the ankle that he injured early in the Cincinnati loss. The Q&A went like this:
"It's getting better, man, it's getting better."
What are you feeling about Thursday night against Baltimore?
"Gametime decision. We're going to take it from there. Obviously, I'm going to be smart with it. If I'm not ready, I'm not going to go out there if I'm not myself. But if I am, I'm going to go. Simple."
"Gametime decision, bro."
Have you been able to test it on the practice field?
"We're going to keep those things in here, in house."
Are you better than last week?
Head coach Adam Gase backed up his safety's information.
"If he feels better on gameday, tests it out, feels good, I'll let him play, if he's good," Gase said. "He'll have a say. If he says he's OK, then we'll talk with the trainers and those guys."
Asked how hard No. 33 was pushing to play against the Ravens, the coach answered with two words: "Hard enough."
There's no doubt Adams would be instrumental in any Jets attempt to go on the road and take down the Ravens, 11-2 and looking to extend their nine-game winning streak. He hit the NFL bigtime with his top production and Pro Bowl selection last season. And he was on his way to similar accolades this year, leading the Jets in tackles, QB hits, forced fumbles and defensive TDs and two sacks away from the NFL record for sacks in a season by a DB.
All except for this injury that hurt his production against the Stripes (one assisted tackle) and kayoed him for the 'Fins.
But several teammates confirm Adams "coached his butt off" Sunday. And he left no doubt that, ankle willing, he'd like the chance to go up against QB Lamar Jackson and the Ravens.
"He's a great football player," Adams said. "I played against him my last year at LSU in a bowl game. He's just a hell of a player. He's a competitor, a guy that came into the league that a lot of people didn't believe in and now they believe in him. Is he going to win MVP? For sure. And hopefully I can be out there and go against him again because I love to play against the best."
But as for whether he'll be playing against the Ravens, everyone's playing it close to the vest this week. The operative phrase is one that Bill Parcells used to offer to reporters who asked too vigorously about something he wasn't ready to discuss: "You'll just have to come to the game to find out."