Will the tight ends return to the Jets' offense in 2016? So far, with the team in T-shirts and shorts, the answer is a definite maybe.
Head coach Todd Bowles said he's been impressed with the way this year's tights are responding during OTA practices.
"From an intelligence standpoint, learning the system, throwing and catching, yes," Bowles said last week. "The blocking, you have to see when the pads come on."
But, Bowles reminded, he's got a young group whose most senior member, Kellen Davis, he confirmed has had thumb surgery and whose most prolific college receiver, Jace Amaro, is returning from a season away due to his shoulder injury, as is Zach Sudfeld from his offseason knee injury of a year ago.
"With Kellen out and Jace coming back and the other guys not having played here before," the coach said, "it'll be more of a training camp thing than it is right now."
But Amaro, who had 106 receptions for Texas Tech in 2013 and 38 catches as an NFL rookie in '14, is typically optimistic about a major rebound for him and his unit.
"This is a big year for me, and especially the way we played last year as a group," he said recently. "It's a big year for all of us. I know we plan on getting more involved this season and I plan on getting more involved this season. It takes a lot of practice, a lot of reps, catching the ball, doing the right things, and getting open, and that's one of the things I can do extremely well."
Amaro, the Jets and their fans know how lean a year it was for the position. Consider:
■ The TEs had only 24 passes targeted for them, with eight receptions for 95 yards, five first downs and one TD. The catches and yards are all the lowest season totals in franchise history.
■ It's also been a while since any NFL team had such low receiving productivity from its tight ends. For instance, the last time a team had fewer TE catches (4) and yards (26) in a season was the 2003 Vikings.
■ The Jets' lone tight end TD (Davis' 1-yard grab and spike at Oakland, below, which caused consternation to at least one denizen of the Black Hole). ties a franchise low for the position, although other recent NFL teams have had one TE touchdown (Arizona in 2014) and no TDs (Arizona, 2012, Seattle and St. Louis, 2011).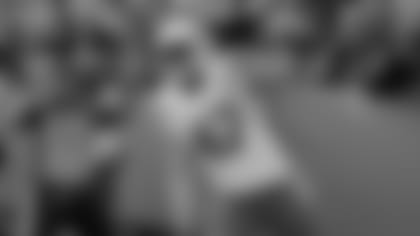 Tight ends not catching the ball isn't necessarily death to an offense. Last year coordinator Chan Gailey and QB Ryan Fitzpatrick were quite comfortable throwing to Brandon Marshall, Eric Decker and the other WRs to the tune of a franchise season record of 4,170 gross passing yards. Meanwhile, the TEs' blocking was a key part of the 10th-ranked rush offense and second-best pass-protection unit.
And Bowles (who was the D-coordinator for those '14 Cardinals) and Gailey weren't fazed by the low receiving totals. As Gailey said last season about the position, "You keep working on things that may end up getting them involved, may not. There's only one football. There's a lot of good players that we have that need to touch it."
"We're winning," he added about keeping the unit's spirits up. "I hope that's good for guys that we're winning as a football team."
Yet no doubt Gailey and his offense would love to create even more indecision for opposing defenses by working the TEs into the mix. And that's what Amaro and his group have aimed to do in May and June.
"This system fits the tight ends very well," he said. "It's just a matter of us winning 1-on-1 routes, us getting open, the quarterbacks trusting us. But I feel we're doing a lot better job than we were last season."
It will be a promising development if the tight ends give a taste of that improvement at next week's mandatory minicamp to wrap up the offseason schedule. Next stop after that, as Bowles said, will be the proving grounds of summer training camp.