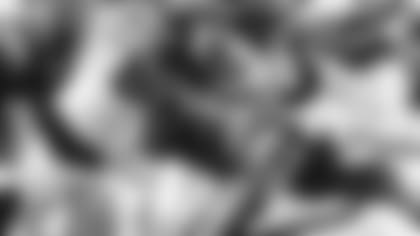 It was a Hall of a struggle for the second and third teams on the Jets offense Thursday night. But while the quantity and quality will need polishing over the final three games of summer, rookie running back Israel Abanikanda is already looking like he's ready to rock and roll.
"Oh, yeah, it definitely felt like, wow, I'm in the NFL. It definitely felt good," Abanikanda said after the Jets' 21-16 loss to the Browns in the NFL-schedule-opening Hall of Fame Game in Canton, OH. "But as a team, I just feel like we have to keep working, keep grinding. I feel like better days are coming up, you know?"
Good games for No. 25 are surely on the horizon for the young man called Izzy. The fifth-round pick's 10-yard touchdown run around left end with 9:04 left in the first half was a thing of veteran beauty and gave the Jets a 13-0 lead.
He took the inside handoff from backup QB Tim Boyle and sped left like a shot. Running behind springing blocks by rookie tackle Carter Warren — Abanikanda's former Pitt teammate — and guard Adam Pankey, he dashed past most of Browns LB Tony Fields' tackle attempt at the 3 and dived smoothly for the left pylon before arising in the end zone for his first post-touchdown celebration as a pro.
"It felt amazing," he told newyorkjets.com's Caroline Hendershot of his first NFL score, "especially at the end when I was celebrating with my teammates. That's what really brought me joy, you know? Just celebrating it with my teammates, because I wouldn't have done it without them."
Head coach Robert Saleh was impressed but also knows there will be teaching points when players and coaches watch the game video back at the Atlantic Health Training Center today.
"We know Izzy has speed. He can catch the edge, run the corner, all that good stuff," Saleh said. "Not every single one of his runs is he going to break loose and go for 80 yards and touchdowns. Most of the runs, you've got to stick your foot in the ground and get dirty. He's learning that style. We already know he's got speed. He has to learn that it's OK to get the 4's and the 5's because the 4's and the 5's will turn into 8's and 9's."
Abanikanda's still learning that simple "501 level" math. For the night, he led all Jets rushers with 27 yards on nine carries (along with a 5-yard reception), with the team gaining 53 yards on 23 carries. Not eye-popping numbers.
But Izzy is already a Green & White rookie of distinction. The last Jets rook to rush for a preseason touchdown was Bam Knight in the third quarter of last year's preseason opener at Philadelphia. But the last Jets rookie to rush for a first-half preseason TD? We have to go back to WR/QB Brad Smith's 61-yard second-quarter eruption at Washington in 2006, or if you prefer more traditional backs, Little John Flowers in 2005 at Philly, on a 5-yard second-quarter run, and before that LaMont Jordan on a 1-yarder, also in the second quarter, at the Giants in 2001.
What will Abanikanda take away from this first Jets HOF game in 32 years for next week's joint practices and preseason game at Carolina? Izzy already knows.
"I just want to learn from my mistakes, my little, minor mistakes," he said, "and try to perfect my game, as I do every day."