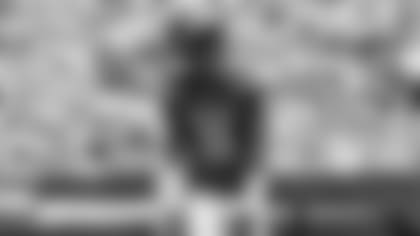 Throughout the season, NewYorkJets.com reporters Eric Allen, Ethan Greenberg,Olivia Landis and Randy Lange will each give their predictions to a series of questions regarding this year's Jets.
Today's question: Is Monday night's Jets-Browns matchup a must-win for both teams?
The stats tell us teams that start 0-2 miss the postseason close to 90% of the time, but the season in its infancy and so many things can change in this league. It's going to take some time to know who these Jets are and that's on top of the new already in place. It's certainly not ideal the promising quarterback is out with mono, the star linebacker is dealing with a groin issue, one of the league's most explosive weapons has shoulder soreness, a versatile wide receiver was placed on injured reserve, etc.
It's a week-to-week league. The Browns, who got pasted at home last week by the Titans as Baker Mayfield was sacked five times and pick off on three occasions, are beatable and Trevor Siemian is a competent backup. Although it's not a must win, it is entirely winnable. Adam Gase said the team's DNA would be revealed when adversity struck and it's already here.
EG: While I don't think Monday night's game is a must-win, I agree with RB Le'Veon Bell that it "holds some weight." It's hard to ignore the upcoming schedule (@NE, BYE, @PHI, vs. DAL, vs. NE), but at the end of the day, after this game, regardless of the result, there will still be 14 games left.
Think about where the Jets were at this point last year, coming off their 48-17 triumphant victory over the Lions and the rest of the season played out. It's a week-to-week league and there's a lot of football left to be played in 2019. Every team deals with adversity and for the Jets, it's hitting early in the season. We'll quickly find out what the Jets are made of, but they're a better team, on paper, than last season and this is a winnable game with or without second-year signal-caller Sam Darnold.
OL: My view — and I think most players and coaches would agree — is that every game should be treated as a must-win. Losing to a divisional opponent in the opening game is always tough, but starting out the season 0-2 is even tougher. As safety Jamal Adams told the media this week, "If you're a champion, if you're a competitor, you want to win — it's simple. You don't play this game to go out there and lose."
When I look at the Jets' schedule, it's not necessarily a walk in the park. And after facing the Browns in Week 2, the Green and White take on the Patriots at Gillette Stadium before heading into their bye. I think if the Jets are able to come out on top in front of a Monday Night Football crowd, it'll provide the momentum they need to give the Patriots a good fight in their home and head into their rest week.
RL: I don't want my team overreacting to the talking-heads big-picture question that gets asked at this time of the season: "You're 0-1. Is this next game a must-win game?" Jets players this week answered this question the only way they should, which is "All games are important." Game 2 is too early to be working yourself into a season's-over-before-it's-started lather. There's plenty of schedule to go after Game 2.
On the other hand, as a fan and follower of the J-E-T-S, I have to look at the situation. How good would it be to lose your first two games of the season, then go on the road to play at New England (no wins since the '10 playoffs), then after the bye play at Philadelphia (no RS wins ever), then come home to play the tough Cowboys and the Patriots? So no, I don't want the Jets to treat Cleveland on Monday night as a do-or-die affair. But yes, I do want them to treat the Browns as "a game that would be extremely helpful to win, all things considered."