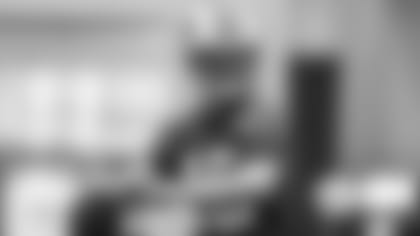 The Jets QB competition began Friday sans Sam Darnold. With the rookie unsigned as the 2018 training camp got underway, veterans Josh McCown and Teddy Bridgewater split the reps down the middle.
"I feel like I can have some ice cream tonight, maybe an extra bowl or so," said the 39-year-old McCown whose strong afternoon included a strike on a comeback throw to wideout Chad Hansen in the red zone. "It was good work from our standpoint. Teddy and I are excited about it — both of us as competitors and just loving the game. You come in and you do what they ask you to do. You practice as hard as you can. That's the situation and we'll be excited when Sam gets here, but until then and until it changes, we're going to carry the load and be excited to do it."
Bridgewater displayed nice touch on a play-action toss to veteran Jermaine Kearse over the middle and later ended practice with some fireworks, connecting with ArDarius Stewart for a 40+yarder.
"It's great work for us. We get to compete against our defense and go out there and continue to just stack those victories with each rep," Bridgewater said. "Each rep is more and more important for us, especially being a quarterback."
Mo from Claiborne
After being limited this spring, both cornerback Morris Claiborne (hand) and outside linebacker Jordan Jenkins (shoulder) were full go in team drills. Claiborne flashed on a couple of occasions with a pair of pass defenses. Wideouts Terrelle Pryor (ankle) and Quincy Enunwa (neck) in addition to safety Marcus Maye (ankle) participated in individual drills. Second-year RB Eli McGuire gingerly walked off the practice field with a foot injury.
Starting Off
With Maye out, Doug Middleton lined up next to Jamal Adams at safety just as they did in the spring. Third-round pick Nathan Shepherd saw plenty of first-team reps along the defensive line. Offensively, the rotation at tight end will be one to watch throughout camp. Offensive coordinator Jeremy Bates used a number of different combinations there this afternoon.
Suspension/Transactions
Safety Rontez Miles (knee) was place on the Active/Physically Unable to Perform list and DL Courtney Upshaw, whom the team signed after he tried out at minicamp, landed on the Active/Non-Football-Injury/Illness list. The NFL suspended second-year WR ArDarius Stewart for two games.
Jetcetra
Jamal Adams and Turmaine Johnson both had a shot at an interception of McCown, but each defender stepped away in order for their teammate to grab the pick. The result was an incompletion that left both DBs shaking their heads… Rookie running back Trenton Cannon, a sixth-rounder from Virginia State, showcased his burners on a long run where he got to the edge. Cannon, also vying for the return job along with veterans Andre Roberts and Lucky Whitehead, has a good one to look up to in terms of patience and vision in Bilal Powell… It's a critical camp for Lorenzo Mauldin and the veteran OLB racked up a would-be sack after not biting on a play-action fake… Avery Williamson showed solid recognition on a screen stop of Powell behind the line of scrimmage… A little pick play got Hansen free for a long gainer after a short toss from McCown… The pads won't come on until Sunday, but the Jets will get back to work Saturday afternoon in Florham Park.
Best Images from Friday's Indoor Practice During Training Camp