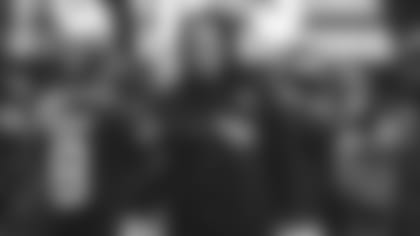 Many facets of head coach Robert Saleh's Jets operation have improved this season to put them in a favorable position heading into December and January. But there is one area that has gone under the radar yet has made lightning progress over the past five weeks.
The Jets aren't committing any. Or more precisely, very many.
"There are different varieties of penalties," Saleh said this week. "There are aggressive penalties, play-speed penalties and then there are dumb penalties. Obviously you want to stay away from the dumb penalties and you want to stay away from the play-speed penalties in the sense of you're a step behind. Usually when you're a step behind, you're grabbing and you're holding trying to catch back up.
"I think our group is playing fast, I think we're playing ahead and I think it shows on tape."
The uptrend in penalty reduction for the Jets has been remarkable. Since their last top-10 appearances in fewest penalties and yards allowed in 2015-16, they've struggled to control their yellow fever, haven't been very successful, and have taken heat for it from media and fans.
It wasn't going all that well through the first seven weeks this season, especially with their 75 penalty yards/game and 10.96 yards/penalty both coming in 32nd in the NFL.
But beginning with the first New England game in Week 8, the secret flag switch got flipped.
In Game 8 vs. New England, the Jets were flagged four times for 41 yards. The next week vs. Buffalo three penalties were marked off for 30 yards. After the bye week, despite the windy, bitter loss in Foxboro, they were hit with three infractions for 15 yards. And last week in the rain vs. Chicago, only one penalty for 5 yards. These totals don't include declined and offsetting penalties but the Jets are also No. 1 since Week 8 in total penalties.
Table inside Article

| Season, Wks | Games | Pens/Gm | NFL Rank | Pen Yds/Gm | NFL Rank |
| --- | --- | --- | --- | --- | --- |
| 2017-21 | 81 | 6.81 | 27th | 60.49 | 29th |
| 2022 Wks 1-7 | 7 | 6.86 | t-25th | 75.14 | 32nd |
| 2022 Wks 8-12 | 4 | 2.75 | 1st | 22.75 | 1st |
Teamwise, the 11 penalties are the Jets' fewest in a four-game span since 2002. And the 91 yards are the least penalty yardage in a four-game span since 2012.
Want more? Consider that no defensive penalties have been marked off against the Green & White the past 3 games. (The only flag was for pass interference by Sauce Gardner, declined by the Bears, on Chase Claypool's 31-yard catch.) The last time the Jets defense had zero penalties in a three-game span was 2007, when that unit had zero penalties in five consecutive games.
And call it coincidence, but the last defensive penalty walked off against the Jets since this current streak began was the John Franklin-Myers roughing-the-passer call that wiped out the Michael Carter II INT-return TD vs. the Patriots.
"That all goes with technique," JFM said this week. "The coaches do a good job of stressing that, teaching us the right position to be in. Once you're understanding what you're getting in, that helps eliminate mistakes. And we've got some great players on defense."
"It's a good group. Everybody, all three phrases, plays so hard, so physical and fast," Saleh said. "We try to play within the rules and play smart and with the way we teach. Aggressive penalties are going to eventually happen where you're fighting for that extra step, whatever that might be. As long as you're playing fast and to our style, which is effort, technique and violence, and you play within the rules, which we preach, I think we can live with whatever aggressive penalty comes our way."