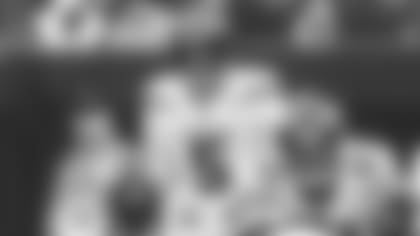 Thomas Morstead is a mere 37 years old, in the prime of life. Except that he's an NFL punter, which makes him about 185 in pooch-punt years.
"No one would sign me because I was old," Morstead said, emotionally but more ironically than bitterly, following the Jets' rainy Sunday 13-10 overtime win over the Giants. "Today was a full-circle moment for me."
And Morstead was one big reason his teammates, some of whom were his teammates during his first hitch with the Jets as the fill-in punter in 2021, wanted him to get a game ball from head coach Robert Saleh and ST coordinator Brant Boyer.
The geezer punter was called on to kick 11 times in the game-long rain. The Giants' average drive start after those punts was their 22-yard line. Whether due to the precipitation, being down to their third QB or the Jets defense, Big Blue punted the ball back all 11 times.
Three of those Morstead punts were gems. He made two of them dance inside the 5-yard line like a couple doing their golden wedding anniversary waltz. Late in the first quarter, Jamien Sherwood downed the first one at the Giants 2. Brandin Echols was on the next punt at the 3. Two quarters later, Morstead chalked up his cue and side-spun the ball to a first bounce at the 7, then out of bounds at the 3.
"I love that Coach [Saleh] got asked just a few weeks ago after we had back-to-back safeties and he said, 'I like how Thomas is being aggressive,' " Morstead said. "Coach Boyer doesn't always like me going too aggressive, because you don't want touchbacks on the résumé, but it just felt nice to have that public verbiage. It kind of takes the handcuffs off a little bit. It's just fun to be aggressive. I don't care what job you have on this team, when you feel like they're letting you go for it, that's a really freeing feeling."
It's also a record-book kind of feeling. Inside-the-5 punts aren't the easiest stats to track down the farther back we go. But we can state that going back to 2008, Morstead is one of only 15 different NFL punters with three inside-the-5 punts in a game (no one's had more) and one of only two in the last six seasons.
He's also the only Jets punter since at least 1981 to have a game in which he nailed three I-5 punts. Here's the short list of the Jets footmen since 1999 who have had two I-5's in a game:
Table inside Article

| Jets Punter | Season | 2 I-5 Games | 3 I-5 Games | Season Total |
| --- | --- | --- | --- | --- |
| Tom Tupa | 1999 | 1 | 0 | 10 |
| Tom Tupa | 2001 | 2 | 0 | 4 |
| Toby Gowin | 2004 | 1 | 0 | 4 |
| Ben Graham | 2005 | 2 | 0 | 5 |
| Steve Weatherford | 2010 | 2 | 0 | 7 |
| Thomas Morstead | 2023 | 0 | 1 | 3 |
Weatherford's a natural on this list. He executed a deuce in the Jets' 2010 MetLife Stadium opener vs. the Ravens, a 10-9 loss, then did it again in Game 14 at Pittsburgh, the 22-17 stunner that set up the '10 AFC Championship Game five weeks later.
But the most interesting old guy here is Tupa, 33 years old when he stuck 10 inside-the-5's for the 1999 season, then 35 two seasons later when he had a couple of two-inside-the-5 games. In the first, he played a pivotal role for the Jets, 3-3 at the time and going on the road to take on 1-5 Carolina. Tupa's first kick to the Panthers 2 set up a blocked-punt-return TD by Chris Hayes. His second, downed at the 1, led immediately to an Aaron Glenn interception and John Hall's game-winning field goal.
Yes, it was what coach Herm Edwards dubbed the Shrek Game, the 13-12 win that was so ugly that it was beautiful, occurring several months after the first Shrek movie was theatrically released.
Morstead knows aging green punters and unattractive victories and earnest appreciation. And on Sunday, metaphorically, he could speak knowledgeably about all three.
"Nobody flinches, nobody blinks, no matter how bad, good or ugly it looks," he said of his Jets. "This team is special."