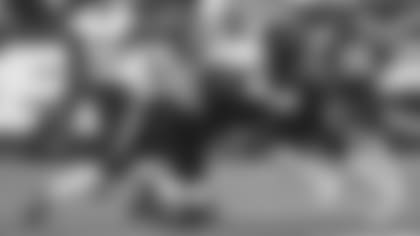 Injuries, COVID and youth conspired to keep the Jets in the lower tiers of most NFL rankings this past season. But coordinator Jeff Ulbrich never lost the faith, and "Brick" gave a qualitative assessment of where his charges began the season and where they wound up in the days before the season finale at Buffalo:
"Especially the last four games, I feel like there has been improvement. I know that hasn't always been illustrated in the statistical part of it, but guys are starting to gain a better understanding of what we're trying to get accomplished. ... I think our run defense has improved, the explosive rate has gone down, so I think third down, we've started to get better, a little bit more detailed, finer-tuned. I feel like there's been improvement in virtually every area of our defense."
Setting the team rankings aside, here are several players, at each level of the D, whose understanding translated into positive trends to take into 2022:
John Franklin-Myers — The DL and edge rusher usually playing on the opposite side of the line from Quinnen Williams was a force. Using an unofficial but telling measure on StatsPass.com of QB knockdowns plus QB hurries, JFM checked in with a total of 56 on 14 knockdowns and 42 hurries. All three numbers led the Jets this past season, and his combined total is the best by a Jet, any position, since Muhammad Wilkerson went for 58.5 in 2015.
It's tempting as a result to contemplate a pass rush with Carl Lawson returning from his Achilles injury to rejoin Franklin-Myers, Williams and the front line next season. In Lawson's 2020 season with Cincinnati, his QBKD+QBH total was 65.5, tied for ninth among all NFL defenders and third among DEs.
C.J. Mosley and Quincy Williams — Once more we turn to the tackle brothers to sum up their season of playing from sideline to sideline. Mosley concluded with 168 tackles in 16 games, good for the Jets lead, fourth in the NFL and a career high. Williams built his 107 tackles around his play behind the opponents' line — his 10.5 tackles for loss easily led the D, and his 18.0 total tackles for loss/no gain (sacks, runs and passes) also topped the unit.
Examining play-by-play tackle stats, C.J. and Quincy are the first Jets with 100 tackles in the same season since LB Avery Williamson (120) and S Jamal Adams (115) in 2018, and they're the first triple-double Jets 'backers since David Harris (123) and Demario Davis (115) in 2014.
CB Bryce Hall — We've detail the Green & White's bumper crop of young DBs during the past season and will continue to do that in the coming weeks and months. But we thought we'd stop one more time at Hall's doorstep with a few different wrinkles on his numbers from Ethan Greenberg's season-ending feature..
Hall finished with 16 PDs, the most according to play-by-plays on the Jets in 2021 and unofficially the most by a Jets corner since Dee Milliner's 18 in his 2013 rookie season, preceded by Antonio Cromartie's 16 in 2012 and Darrelle Revis' 23 in 2011.
But equally eye-opening about Hall's game was his availability. His 1,169 scrimmage plays were the fifth-most defensive snaps in the NFL and the most by a cornerback. And he was the only Jet, offense or defense, to start all 17 games in '21, making him the first player in franchise history to start 17 regular-season games in a season.