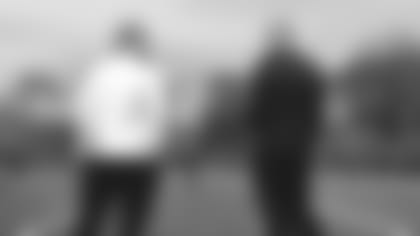 The Robert Saleh/Jeff Ulbrich tandem guiding the Jets defense will be interesting to see develop. As Saleh said, "Jeff is pure energy, he's real, he's a guy's guy. And it's awesome that we have him here."
Ulbrich's coaching career began, in a sense, before his decade-long playing career with the 49ers ended. As LB Takeo Spikes said in an espn.com story two years ago, Spikes, after a decade of his own in the pro game, came to San Francisco in 2008 and was trying to take away Ulbrich's playing time. And Ulbrich helped him.
"What was surprising to me was the degree that he helped me," Spikes recalled. "He went overtime. Jeff was a very smart football player. He's a great teacher. I think that's what separates him from all others."
It's a little harder to gauge Ulbrich's impact on a defense than Saleh's, since the Jets head coach was San Francisco's defensive coordinator for the past four seasons and the rise of his unit's rankings were impressively upward.
Ulbrich's five seasons from 2015-19, on the other hand, were spent as Atlanta's linebackers coach. It wasn't until last season that he added assistant head coach to the LBs title and not until Game 6 that he became interim D-coordinator.
But there was some solid statistical movement for the Atlanta defense under Ulbrich. Here is a table showing the Falcons' averages and NFL rankings in several key categories, after their first five games, when they went 0-5, from Games 6-16, when they were 4-7, and for the entire 2020 season:
Table inside Article

| Span | Opp Yds, Rank | Opp Rush Yds, Rank | RZ Def, Rank | Opp Pts, Rank |
| --- | --- | --- | --- | --- |
| Gms 1-5 | 446.0, 31st | 110.2, 12th | 75.0%, 28th | 32.2, 30th |
| Gms 6-16 | 376.7, 23rd | 102.4, 6th | 58.3%, 9th | 23.0, 14th |
| Gms 1-16 | 398.4, 29th | 104.8, 6th | 64.3%, 25th | 25.9, 19th |
The red zone touchdown rate for opponents was particularly impressive as Ulbrich's unit went from 28th in the NFL over the first five games to a top-10 RZ defense over the last 11. And while the Falcons' passing offense finished 32nd and last for the year, it's saying something that Ulbrich's defenders over the last 11 games cut more than 60 yards/game off the average over the first five.
What does all this mean for 2021? No way to know for sure, of course, with popping pads still seven weeks away and opening day at Carolina still further away on Sept. 12. But as Ulbrich has suggested, the Jets defense should heat up as the year goes on.
"It's a defense that's very simple, not to be mistaken with easy by any means, because there's lots of detail within it and you'll find early in the development that we're going to have rough days because they're going to pick on us," he said.
"We're going to get hit ... but we learn through the burn."