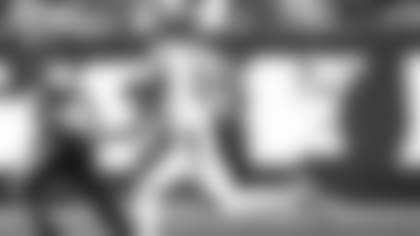 Funny how the game of football sometimes works. On Sunday afternoon, Robby Anderson grabbed Sam Darnold's longball down the middle, flew past two Dallas defenders, and completed a 92-yard touchdown pass play, the second-longest pass and scrimmage play in Jets franchise history.
And in the tunnel below the MetLife stands, Wesley Walker, the wideout who set the record almost 44 years earlier with a 96-yard catch-and-run from Ken O'Brien at Buffalo, smiled approvingly.
Actually, Walker didn't see the play until later, because he was lining up with all the rest of the members of the Jets' All-Time Team to be honored on the field at halftime. But he knew Anderson scored and he knew it was on a longball.
"When I got upstairs, I asked someone how long it was and he said 93 yards. I said, well, he didn't get mine," Wesley said with a chuckle this week.
"I do like Robby Anderson," Walker added. "Whenever I'm asked, 'Which player reminds you of you?' I always mention Robby. He's a deep threat, he can run. I've seen it, I know he has that ability."
Walker was on hand as one of the WRs being honored as a member of the Jets' All-Time Team, announced last month after tallying the fan voting. There has been none better in Jets annals at grabbing the deep ball and running away from people, as Walker's 10 receptions of 60-plus yards in his 13 seasons attest.
On Sunday, Anderson showed the ability to land high on several lists for long Jets plays. Here are the five longest pass plays (*not a touchdown):
Table inside Article

| Jets Receiver-Passer | Season | Opp | Yards |
| --- | --- | --- | --- |
| Wesley Walker from Ken O'Brien | 1985 | @ BUF | 96 |
| Robby Anderson from Sam Darnold | 2019 | vs DAL | 92 |
| Richard Caster from Joe Namath | 1975 | vs BAL | 91* |
| Richard Caster from Joe Namath | 1974 | @ MIA | 89 |
| Wesley Walker from Ken O'Brien | 1985 | vs NE | 88 |
Before we leave the history books and move on to the Patriots, here are several more distinctions for the Darnold-to-Anderson connection:
With the play coming at MetLife, it was the Jets' longest pass play in a home game, nipping the 91-yard non-TD from Joe Namath to Richard Caster against the Baltimore Colts at Shea Stadium in 1975. It also represented the longest one-play drive at home and second-longest one-play drive overall, behind the O'Brien-to-Walker one-play, 96-yard "march."
The Jets' longest run is Johnny Johnson's non-scoring 90-yarder vs. Chicago in a Sunday night game in 1994, so the Anderson catch-and-run also was the second-longest scrimmage play for the Green & White and the longest at home.
And last on our list of Sam-to-Robby distinctions, the play is the longest from scrimmage in the NFL this season, surpassing the 89-yard TD strike from Baker Mayfield to Odell Beckham for the Browns against the Jets on MNF in Week 2.
As Walker advised, with all these record-book distinctions and all his ability, he'd like the Jets to use Anderson more.
"I understand injuries, I understand the quarterback situation," Walker said. "But I understand the frustration. It was the same way for me. It's kind of selfish, but you just want the ball. I hope it goes positive for him from here on out."