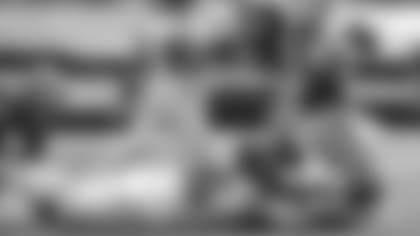 One of the bad things about the Jets' losses to Buffalo and San Francisco (besides the losses themselves) is that they obscured some good things that happened for the Jets in those games. Marcus Maye's play in the opener was one such positive. And Quinnen Williams' game against the 49ers was another.
How good was "Q" last Sunday? Good enough to be mentioned among some outstanding Green & White defensive performances of the past 20-plus seasons.
For starters, Williams had seven tackles, tied with Maye for the Jets' lead in the game and a career high for the second-year man from Alabama.
Among those tackles, Williams was involved in five plays behind the line of scrimmage:
■ In the first quarter, he split a 2-yard TFL with Jordan Jenkins of San Fran RB Tevin Coleman.
■ On the next play, he took down QB Jimmy Garoppolo for an 8-yard loss, his first sack of the season.
■ Later in the opening frame, he made the solo tackle on another Coleman 2-yard loss.
■ On the first play of the second quarter, he split a 3-yard TFL with Maye of Raheem Mostert
■ In the third quarter, he roared past LT Trent Williams and jolted backup QB Nick Mullens, forcing a fumble in the process for the first strip of his career, and registering the first two-sack game of his career.
For the game, Williams was credited with 2.0 sacks for minus-20 yards and 2.0 TFLs for minus-4.5 yards. That makes 4.0 total tackles for loss for minus-24.5 yards.
Both of those figures are among the most by a Jets defender since 1997. Only John Abraham had more TFLs in a game at 4.5 in 2004 against Buffalo. And Williams' yardage lost was tied for the seventh-most by a Jet in that span. (DT Jason Ferguson had the most, minus-28 yards, on two sacks vs. the Bills in 2003).
Now even though Williams gets credit for only 2.0 TFLs (because half-TFLs, like half-sacks, count, well, half), he was in on three plays for loss on rushes. Add his two solo sacks and he was in on five plays for loss.
Williams thus becomes one of only three Jets to be involved in five total plays for losses in a game since '97. Here is the short list:
Table inside Article

| Jets Player | Year, Opp | TFL Plays | Sack Plays | Total Loss Plays |
| --- | --- | --- | --- | --- |
| John Abraham | 2004 vs. BUF | 2 | 3 | 5 |
| Dewayne Robertson | 2007 vs PIT | 2 | 3 | 5 |
| Quinnen Williams | 2020 vs SF | 3 | 2 | 5 |
Before the Niners game, Williams explained his philosophy: "Honestly, every day I just try to go my hardest and do my job. And I feel I've got to do much more, man. ... My standard is super-high for myself. I felt like I haven't done what I can do and what I should be doing."
Then in the days after the game, head coach Adam Gase offered high praise:
"That was the way that we need Quinnen to play every week. Not only was he disruptive with the quarterback and the run game, he was just a constant nightmare for those guys penetrating through, really causing them all kinds of problems. He had a whole bunch of different matchups, it didn't matter who was trying to block him. He was doing a good job of penetrating and his effort was off the chart. That's what we need week in and week out."
With Williams and Maye and several more similar individual games in all phases, plus of course better health than they've had the first two weeks of the season, the Jets will be able to get off their September schneid, perhaps as soon as Sunday in Lucas Oil Stadium against the Colts.