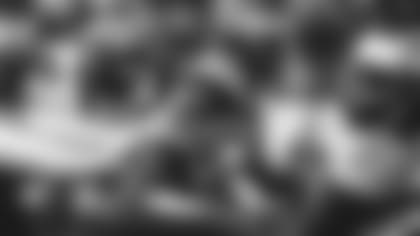 Soaring jets are usually associated in the NFL with prolific passing games. But while Zach Wilson has upped his efficiency since returning from his knee injury, head coach Robert Saleh uses the jet analogy regarding his team's rushing attack when he said this week, "I feel like our run game is really taking off."
"We're generating a lot of explosives in the run game," Saleh said to start the final week of game prep, for Sunday's season finale at Buffalo. "Ty Johnson, Michael Carter, Austin Walter came in [against Tampa Bay] and created some explosives."
Saleh noted the Jets are ninth in the NFL in yards/carry with a 4.46 average, but their eruption is more than just a one-season thing. It's historic:
■ In the Jets' last two games, vs. Jacksonville and Tampa Bay, they're averaging 6.82 yards/carry, the second-best figure for back-to-back games in franchise history.
■ Add the game at Miami and the Jets are averaging 6.10 yards/carry, the third-highest mark for three straight games in franchise history.
■ And if we combine the numbers from Game 10, the Dolphins home game, to present, the Jets are averaging 5.42 yards/carry, the No. 1 rushing average for seven consecutive games in franchise history.
Here are the back-to-back and seven-game top-three lists.
Table inside Article

| Year, Games | Opponents | Yds/Carry | Leading Rusher | Yds/Carry |
| --- | --- | --- | --- | --- |
| 2018 Gms 4-5 | jax-DEN | 6.87 | Isaiah Crowell | 11.53 |
| 2021 Gms 15-16 | JAX-TB | 6.82 | Michael Carter | 7.04 |
| 2009 Gms 6-7 | BUF-oak | 6.74 | Thomas Jones | 6.90 |
Table inside Article

| Year, Games | Opponents | Yds/Carry | Leading Rusher | Yds/Carry |
| --- | --- | --- | --- | --- |
| 2021 Gms 10-16 | MIA-hou-PHI-NO-mia-JAX-TB | 5.42 | Michael Carter | 7.03 |
| 2008 Gms 6-12 | oak-KC-buf-STL-ne-ten-DEN | 5.19 | Thomas Jones | 5.16 |
| 2009 Gms 1-7 | hou-NE-TEN-no-mia-BUF-oak | 5.07 | Thomas Jones | 4.93 |
Quite the turnaround, since the Jets in their first nine games were at 3.60 yards/carry average, 29th in the league, and they've had another dizzying array of new players fitting into the backfield and on the offensive line all season due to injuries and COVID.
What happened? A few possibilities:
■ Saleh gives big props to his O-line and coach John Benton: "They're playing their butts off and the scheme is really kind of a lot of presnap movement, a lot of deception and a lot of moving the line of scrimmage. It's been awesome to watch because not only the run game but in protection, things have been really coming together. It's been cool to see the O-line develop the way it has." Game 10 vs. Miami also happened to be Laurent Duvernay-Tardif's first start at RG.
■ Wilson is a part of the rushing picture, too, with his 52-yard sideline dance-and-dive touchdown vs. the Jaguars, which has lifted his rushing average to 5.96 yards/carry, third among QBs with at least 20 attempts. Combined with Carter's 55-yard scamper vs. the Bucs, the two are the first rookies to reel off 50-yard runs in back-to-back games in franchise history. And a couple of half-field dashes will add a yard or two to almost any rushing average.
■ The Jets in their seven-game stretch have gone up against opponents with bottom-half-of-the-league yards/carry defenses. Through Saturday's games, Miami is 19th and Houston 28th. Jacksonville, meanwhile, is 25th in yards/game.
What can the Jets and their fans expect in their finale in Western New York? The Bills will be formidable, since they have the NFL's No. 1 overall defense and likely will play their starters for a while, unlike 2019, since they can secure first place in the AFC East with a win.
But the Bills are also 14th in the league in yards/carry defense at 4.28, not much better than the Bucs, 16th at 4.30. With RB Tevin Coleman back on the active roster from COVID and Carter a possible returnee after missing Tampa Bay with a concussion, there's a chance the Jets' run into the offseason will continue.