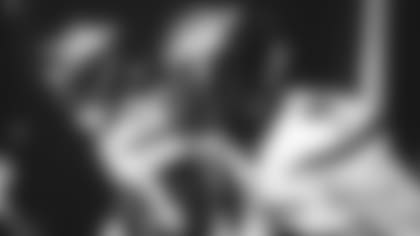 Seasons like the Jets' current one tend to hide a lot of good. The youth is very young, the injuries are very painful, and the losses can have you at a loss.
But good things are happening for head coach Robert Saleh and his team as they continue to change the culture and build the foundation for the future. The offense is one of those good things.
"I'm knocking on wood on this one, I hope to God I don't jinx this, but we've been healthy on offense," Saleh said this week. "And because of it, we've been able to stack up a lot of good days and we've been getting a lot better. The offensive line has been getting better, run game we'd still like to improve. But Michael Carter is getting better, Alijah Vera-Tucker is getting better, Elijah Moore is getting better."
Saleh pointed to some more pluses and players on his offense in that quote, but today we'll focus on two of the three rookies he mentioned. Carter and Moore are scoring points and playing like vets.
Moore already senses that happening for him.
"I'm getting more comfortable, getting more opportunity," he said. "You can't look at the game no more like I'm a rookie. You've just got to go out there and you've just got to play. That's old. It's time to get going."
Carter had a similar reaction to whether he considers himself a rookie now.
"I never did," he said. "And all the guys know that. They say, 'What's up, rook?' I say, 'I"m not a rook, it's just my first year.' They drafted me to play."
Veteran RB Tevin Coleman said he sees that same experienced look out of his backfield mate.
"How he comes in, prepares, takes notes, takes care of his body, comes in with positive energy — that helps a lot," Coleman said. "He comes in here like a vet, he works hard, and he does everything like a vet. And that's amazing to see by him."
As for the points part above, we go inside the numbers to show that Carter and Moore are racking up touchdowns and scrimmage yards at an impressive pace in the past month and helping lift the offense at the same time. Just as interesting is that in the last four games, the rookies have taken big steps forward while working with four different QBs:
Table inside Article

| | First 5 Games | Past 4 Games |
| --- | --- | --- |
| Carter/Moore YFS/Game | 59.0 | 168.8 |
| Carter Moore Points/Game | 2.4 | 9.0 |
| Jets YFS/Game | 267.0 | 415.5 |
| Jets Points/Game | 13.4 | 23.5 |
Each rookie has scored four touchdowns this season, and that, too, is noteworthy. They're one of only three sets of NFL rooks this season to have at least four TDs each. (Philadelphia WR DeVonta Smith and RB Kenneth Gainwell and Pittsburgh RB Najee Harris and TE Pat Freiermuth are the other pairs.)
As for Jets franchise history, the only other time two rookies had four-plus TDs in a full season was way back in 1966, when RB Emerson Boozer and TE Pete Lammons did it. And since Lammons didn't catch his fourth TD pass from Joe Namath until Game 13 at San Diego, Carter and Moore are the Jets' first rookie tandem to reach four TDs each this early in a season.
Carter has implied that there's more ahead, whether it's from him or Moore or the offense at large.
"It comes down to just executing," he said. "And whenever that number, your number, is called, it's a beautiful opportunity to go get it. I just think that attack mentality is something that we're building and we're going to explode soon. I'm excited. We have the team to do it. It gives me a sense of belief that we don't ever give up in the game, ever."
And that's a good feeling to take into the future, whether it's Sunday against Miami or for the rest of 2021 or for seasons to come.