One last lingering memory of Joe McKnight, fatally shot outside New Orleans on Thursday, is the bright shining moment he provided Jets and NFL fans with his kickoff returns in 2011-12.
"Devin Hester's the best now. Hopefully I can have my name next to his or around his somewhere. That'd be great," McKnight told me earnestly back in November 2012, in the middle of that second season as the Jets' primary kick returner. "I used to look up to him. He wore No. 4 and I wore No. 4 [in high school]. I always wanted to go to the University of Miami. I was a big Clinton Portis fan and a big Devin Hester fan."
In keeping with our Inside the Numbers theme, it's worth once more reviewing that McKnight at the time was rivaling not only Hester but "the Kansas Comet," Gale Sayers, for his achievements as a returner.
Joe led the NFL with his 31.6-yard average in '11 and came in third at 27.5 in '12. The two seasons combined gave McKnight a 29.4-yard average, which was the NFL's best in back-to-back seasons (minimum of 40 returns) since Sayers erupted for a 31.3 average in 1965-66 in the first two years of his too-short Pro Football Hall of Fame career.
Two other players have surpassed McKnight's average four times since then with a fifth awaiting the end of this season. It seems clear that while most kickoff returners have been slowed by the touchbacks-to-the-25 rule of the last two years, the Vikings' Cordarrelle Patterson hasn't. Here are the top six kickoff-return averages in back-to-back seasons since Sayers set the standard a half century ago:
*  KO Returner
Team  
Seasons
Rets
Yards
Avg *
Cordarrelle Patterson
MIN
2012-13
43
1393
32.4
Cordarrelle Patterson
MIN
2015-16
51
1599
31.4
Jacoby Jones
BAL
2012-13
69
2059
29.8
Jacoby Jones
BAL
2013-14
63
1870
29.7
Cordarrelle Patterson
MIN
2013-14
77
2264
29.4
Joe McKnight
NYJ
2011-12
73
2145
29.4
2016 season not completed
Four Before "Q"On Wednesday we broke out Quincy Enunwa's **place in Green & White history** with his four receptions of 20-plus yards against the Patriots. Here are some other notes from that list of 11 different Jets, regardless of position, who reached that milestone 21 times over the years:
First Jet to do it: Don Maynard, 1963, Game 7, vs. Denver (28, 37-t, 22-t, 56-t)
Only non-WR to do it: TE Richard Caster (below photo), 1975, Game 3, vs. New England (21, 23, 27, 21-t)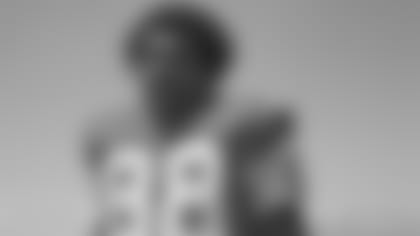 Only Jets to have 5 catches of 20-plus yards in a game: Maynard, 1966, Game 14, vs. Boston (20-t, 26, 21, 24, 30); George Sauer, 1968, Game 5, vs. Denver (29, 32, 31, 20, 31); and Wesley Walker, 1979, Game 3, vs. Detroit (28, 47, 22, 32, 30).
Jet to do it the most times: Maynard, 5 times, followed by Walker, 4 times
What the DeuceWhen the replay assistant challenged the Patriots' two-point conversion, the pass from Tom Brady to James White, late in Sunday's loss, and the call was overturned into no score, it snapped a streak of four consecutive opponents' two-point conversions back into 2013. The last failed two-point play by the opponents was a Sam Bradford incompletion in the Jets' 27-13 win over the then-St. Louis Rams in 2012. The Jets, meanwhile, have not attempted a two-pointer in the past two seasons and haven't converted one since 2010.
Challenging FiguresThe Jets had three replay challenges go their way vs. New England. Head coach Todd Bowles challenged two — the early third-down conversion from Tom Brady to Dion Lewis that was really a yard short of the sticks, and the fourth-quarter end zone incompletion from Ryan Fitzpatrick to Enunwa that was reversed into a touchdown. And the booth review led to overturning the two-point conversion above. The Jets also had three calls reversed in their favor in London last year vs. the Dolphins, although none of those was from a Bowles challenge.